California Lifestyle News

CARPINTERIA, Calif. -- Holland Scott Gallery today announces the debut of the Environmentally Responsible Green Energy Fine Art Lamps. These lamps combine energy-efficiency technology with fine-art design. Elegant photographic floral images and art-deco linoleum patterns from the 1930's are the result of energy efficient LED lamp technology and the Giclee fine-art printmaking process.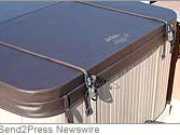 ANAHEIM, Calif. -- Lockdown Co., announces Patented Steelcore Spa Straps, made with an innovative cut-resistant material SEW (Steel Encased Webbing). The only spa cover security device strong and secure enough to stop all unauthorized access by anyone of any age. Besides saving lives, and ensuring privacy, they are the only spa straps that secure spa covers in high winds.
SAN FRANCISCO, Calif. -- gus is pleased to introduce their premier line of higher end leather wallets and accessories designed exclusively for men and featuring beautifully hand-sewn craftsmanship as well as their unique "splitshot perforation" styling.
SANTA MONICA, Calif. -- For the first-time ever, the folks who live in Santa Monica and surrounding areas, will get a taste of third-world culture at the International Handcrafted Gifts and Home Textile Expo to be held on January 20 and 21 at the Santa Monica Doubletree Hilton.
SAN DIEGO, Calif. -- Athletic-Minded Traveler LLC, a San Diego-based active lifestyle media company that operates the largest healthy travel site on the web, www.athleticmindedtraveler.com, released today its 2007 ranking of "The Best Hotel Gyms in the U.S." The Top 10 hotel gyms received the company's recommendation after ongoing research of over 3,500 hotels and anonymous personal tours by the editorial staff.
VENICE, Calif. -- So, what's the buzz about the "Al Gore-ified" products and services that have been popping up on the Los Angeles business scene? Java Juice(R), Inc., a Venice-based coffee extract company, talks about the green scene and the upcoming Eco Gift Expo being held at the Santa Monica Civic Auditorium, December 15-16, 2007.
PALO ALTO, Calif. -- Parents are concerned that their children are not playing outside, and they are willing to pay a lot of extra money for a house in a better neighborhood. That's the conclusion of a new survey published on Playborhood.com, an online community for parents who want their children to play outside in their neighborhoods
ORANGE, Calif. -- Recent scientific findings indicates new niche fragrance, Virtue(R) parfum, and its inspirational concept are on solid ground with olfactory research, associative behavior research, and the Bible. "Virtue(R) was created to be a reminder for Godly focus and help a person connect through fragrance. We developed it for anyone seeking a relationship with their Creator," said Vicki Pratt, President, of IBI.
SAN DIEGO, Calif. -- Tired of the bar scene? Not crazy about chatting online with people you don't know? FunQuest Adventures provides an alternative to the typical dating scene and offers active singles a fun and safe way to meet people. Internet dating is big business, but with so many predators out there people are becoming more concerned about safety.

LOS ANGELES, Calif. -- Are you happy is a simple question but being blissful seems to elude nearly everyone. Even Oprah on a recent show admitted that she was not 100% happy. Dawn T. Clare seeks to fill this gap through counseling and corporate consulting. Dawn overcame many challenges on her path to bliss.

CHINO HILLS, Calif. -- Jixa LLC announces the release of Prapta.com, a growing database that allows users to share personal life experiences while earning points. Experiences ranging from eating an apple to hiking the Tyrolean Alps will inspire you to share your life experiences and set future goals.

SAN FRANCISCO, Calif. -- With a Ph.D. and an M.A. in Human Sexuality, Danielle Harel and Celeste Hirschman can help make anyone's sex life sizzle. They use a powerful combination of talk and body-based coaching methods to support people in overcoming sexual concerns, expanding comfort, and joy in their bodies, and achieving their highest pleasure potential.

SAN DIEGO, Calif. -- The dating Web site, OnlineBootyCall.com, a division of Mobeze, Inc., is proud to announce that they have received only one confirmed report of marriage since their Web site's inception three years ago. "Reaching the one million member mark with only a single reported marriage is a tremendous accomplishment," Moses Brown, Founder and CEO said.