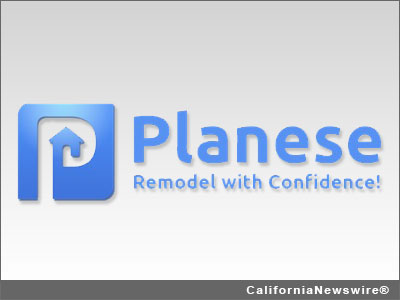 SUNNYVALE, Calif. /California Newswire/ — Planese, Inc. has announced its Northern California findings from its Fall 2013 "U.S. Remodeling Sentiment Report." This release will coincide with the 3-day Home and Garden Show at the Santa Clara Convention Center that starts on Sept. 13. This forward-looking report, based on data from Planese's survey of 2,000 homeowners nationwide, has documented trends in the home improvement industry since 2005.
"The wealth effect is taking hold in the Bay Area, particularly Silicon Valley, and that means great news for the entire home improvement industry as consumers start spending again," said Dan Fritschen, CEO and co-founder of Planese, Inc.
Since 2005, Fritschen has researched and published remodeling industry data about U.S. homeowners, their remodeling plans and intentions. "It's the people who feel secure at the end of the recession who are the first to remodel."
Planese compared the most recent responses from Northern California homeowners with the responses given during the recession in 2010 and at the height of the remodeling boom in 2007. 39 percent of homeowners today report that they are excited about starting their remodeling project which is up significantly from the low of 28 percent in 2010, but still below the high of 46 percent in 2007.
The survey also found that local homeowners are again less likely to do any of the work themselves. Today 54 percent plan to do none of the remodeling work themselves as compared to 48 percent in 2010 and 56 percent in 2007. In addition, more Santa Clara homeowners report they will use expensive materials when they remodel (23 percent today), halfway between the low reported of 17 percent in 2010, and the high of 29 percent in 2007.
Planese Survey Results:
Area homeowners are:
2007 2010 2013
Excited about Remodeling
46% 28% 39%
Planning to use a general contractor
82% 81% 88%
Planning to do some of the work themselves
44% 52% 46%
Planning to use expensive materials
29% 17% 23%
At the show, remodeling expert and homeowner advocate Fritschen will share his tips, ideas, and strategies with homeowners during two workshops: "101 Ways to Save Money When You Remodel" and "Should you Remodel or Move? Tips to Make the Right Decision." Fritschen is the award-winning author of "Remodel or Move? Make the Right Decision."
Planese will unveil at the Santa Clara show a new home remodeling app for iPhones that helps homeowners plan their remodeling projects from start to finish. Home and Garden Show attendees can download the app for free. The Planese app features an instant Remodeling Budget Calculator and an IdeaFile for searching, saving and sharing design ideas and photos.
About Planese:
Planese, Inc., the pioneer in collaborative home improvement, helps homeowners approach, plan, and carry out their home remodel by providing an easy-to-use solution. Powered by proprietary algorithms and enriched by community contribution, Planese provides a personalized, localized, interactive, intelligent, collaborative, and intuitive mobile app that delivers real-time information to homeowners.
Planese creates a collaborative environment within the remodeling industry, empowering customers with the information they need to make informed decisions. More information: http://planese.com/ .
Copyright © 2013 CaliforniaNewswire® and Neotrope®. California Newswire is a publication of the Neotrope News Network and a U.S. reg. TM of Neotrope.