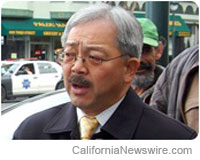 SAN FRANCISCO, Calif. /California Newswire/ — This past week, S.F. Mayor Edwin M. Lee urged San Francisco landlords to join the City's SF Homes for Heroes campaign and help house 50 homeless veterans in 100 days. The campaign provides help to homeless veterans with federal supportive housing vouchers who cannot find an apartment to rent in San Francisco.
"San Francisco remains steadfastly committed to supporting our veterans and giving them a second chance," said Mayor Lee. "This unprecedented initiative will help us serve the men and women who have proudly served us in our armed services. While we have a long road ahead to care for our nation's heroes, we can make a big difference beginning today. I am encouraging property owners to join this effort."
The U.S. Department of Housing and Urban Development/Veterans Affairs Supportive Housing (HUD-VASH) combines direct rental subsidy to landlords, as well as case management and clinical services provided by the U.S. Department of Veterans Affairs. Last week, a one-bedroom unit was rented to a HUD-VASH client for $1,612 per month. San Francisco's goal is to house 50 Veterans who have HUD-VASH vouchers from prior year allocations, but who have been unable to find apartments.
In March 2012, Mayor Lee announced that the federal government awarded San Francisco $2.7 million in HUD-VASH funding which includes 200 vouchers to the San Francisco Housing Authority (SFHA) to provide permanent supportive housing for formerly homeless veterans in San Francisco and funds for the City to move forward with a groundbreaking adaptive re-use project that will house veterans in need at 150 Otis Street. The funding is part of the Obama Administration's commitment to end veteran and long-term chronic homelessness by 2015.
"President Obama and I are personally committed to ending homelessness among Veterans," said Secretary of Veterans Affairs Eric Shinseki. "Those who have served this Nation as Veterans should never find themselves on the streets, living without care and without hope."
The U.S. Department of Veterans Affairs is collaborating with the "100,000 Homes" Campaign and its 117 participating communities to help find permanent housing for 10,000 vulnerable and chronically homeless veterans this year. San Francisco is one of 17 communities in the country selected to participate in the Rapid Results 100 Day Campaign to end veteran homelessness.
"In keeping with the Obama Administration's goal of ending Veteran homelessness, I am confident that HUD, working with the VA, the City and County of San Francisco – including the San Francisco Housing Authority – and a host of local nonprofits and property owners, will succeed in housing our heroes," said HUD Regional Administrator Ophelia Basgal. "SF Homes for Heroes is 1 of 17 community-driven efforts around the country that have committed via the 100,000 Homes Campaign to rapidly house homeless Veterans in 100-days using the HUD-VASH program and we are well on our way to reaching the goal. Our Veterans deserve nothing less."
"The San Francisco VA Medical Center is committed to President Obama and VA Secretary Shinseki's plan to end homelessness. We are working hard to ensure our homeless Veterans acquire needed health care services; have opportunities to return to employment; receive benefits assistance, and are able to secure safe and affordable housing," said San Francisco VA Medical Center Director Lawrence H. Carroll. "Our partnerships with HUD, the City and County of San Francisco, the San Francisco Housing Authority, community non-profit agencies and property owners will make safe housing a reality. Those who have served this nation as Veterans should never find themselves on the streets, living without care and without hope. Joining together with our partners, as a part of SF Homes for Heroes, reinforces our unwavering commitment and dedication to caring for and housing our Nation's Veterans."
The 100 day countdown for the SF Homes for Heroes campaign began on May 9th and has been focused on accelerating the approval process and working to make the housing vouchers more competitive in the active San Francisco rental market. The efforts include streamlining San Francisco Housing Authority inspections, increasing the allowable rent payments to landlords and outreach to private landlords. Mayor Lee has also convened City departments with Federal agencies to cut delays related to paperwork and inspections that can discourage a landlord from renting to a veteran with a HUD-VASH voucher.
Working together to end veteran homelessness in San Francisco, SF Homes for Heroes is an unprecedented collaboration with the City, Swords to Plowshares, the Department of Veterans Affairs, HUD, small and large property owners including the San Francisco Apartment Association, business leaders, and non profit organizations such as the Chronicle's Season of Sharing, Hotel Council and Philanthropy by Design who play vital roles in terms of rental deposits and furnishings for veterans' new homes.
For more information, go to: SFHomesForHeroes.org.