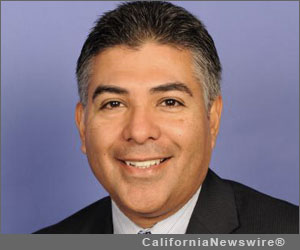 SAN FERNANDO, Calif. /California Newswire/ — In Washington, D.C., today, U.S. Congressman Tony Cárdenas (D-San Fernando Valley) today issued a statement following the decisions by the United States Supreme Court to overturn the federal Defense of Marriage Act and to dismiss attempts to overturn the lower court ruling that California's Proposition 8 is unconstitutional.
"Today is a momentous and joyful day for those of us who believe that our government should not legislate who we love and who we choose to commit to through the vows of marriage," said Cárdenas.
"Both DOMA and California's hateful Proposition 8 were the results of a campaign of fear, waged to 'protect' against a threat that has never existed. The commitment to love by one consenting couple will never threaten the marriage vows of another such couple.
"I am very pleased that laws making any such love and commitment illegal will no longer be the law of our land. I congratulate those men and women who have fought toward this day with a simple goal in mind, to prove the staggering concept that all people are created equal. Their love is equal to the love I share with my wife. Today, that equality has been written into law."