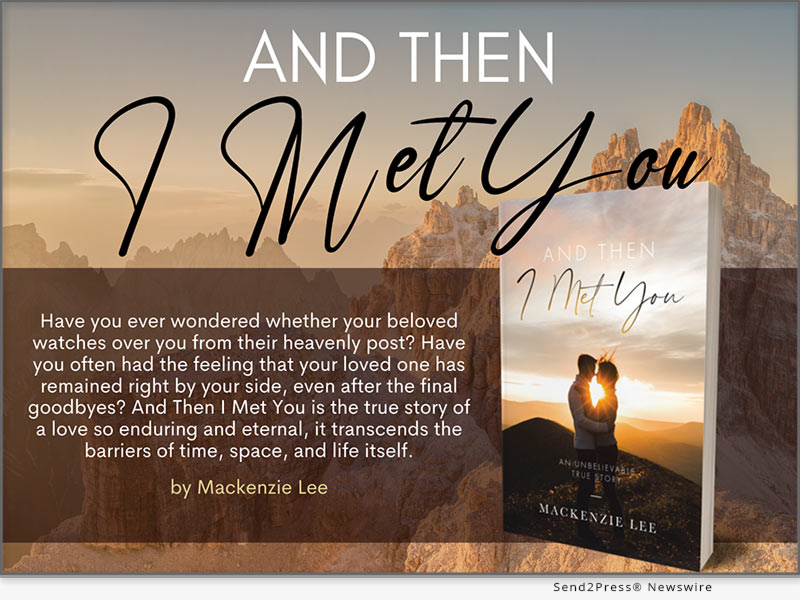 BOSTON, Mass., Jul 24, 2023 (SEND2PRESS NEWSWIRE) — Author Mackenzie Lee unveils a heartwarming tale of eternal love that defies all odds in her latest book, "And Then I Met You" (IBSN: 978-0228887737; Released March, 2023). This poignant true story weaves a mesmerizing narrative of a love that transcends the boundaries of time, space, and even life itself.
Have you ever questioned whether love endures beyond the veil of death? "And Then I Met You" introduces readers to two souls whose love is tested at every twist and turn, facing countless barriers that seem insurmountable. But amidst the challenges, a remarkable journey unfolds, leading to an unexpected and miraculous reunion.
Within the pages of this compelling book, readers will embark on an emotional rollercoaster, witnessing the power of love to overcome the impossible. As the story unravels, barriers that once separated the two hearts vanish, leaving behind an unforgettable tale of unwavering devotion and connection.
"And Then I Met You" promises to leave a lasting impression on readers, resonating long after the final chapter. With every turn of the page, the book invites you to look at life, love, and loss from a fresh perspective, igniting a spark of hope and renewal in your heart.
Join the elusive Mackenzie Lee on this transformative journey of love and faith, as she captures the essence of an eternal bond that continues to shine as a guiding star in the sky. "And Then I Met You" is more than a book; it's an enchanting reminder that love knows no bounds.
For more information about the author and her book, please visit https://a.co/d/fSQ5KMm
Mackenzie Lee has a unique ability to weave heartfelt narratives that touch readers' souls. With a passion for exploring the human spirit and its capacity for love, she captivates audiences with her deeply personal storytelling. "And Then I Met You" is her debut book, offering a glimpse into the boundless power of love.
BOOK SUMMARY:
Author: Mackenzie Lee
Email: authorpress[@]tellwell.ca
Buy Link: https://a.co/d/fSQ5KMm
Genre: Memoir
Released: March, 2023
PAPERBACK ISBN-13: 978-0228887737
Publisher: Tellwell (www.tellwell.ca)
News Source: Author Mackenzie Lee
Related link: https://a.co/d/cWATAtR
This press release was issued on behalf of the news source, who is solely responsible for its accuracy, by Send2Press Newswire. To view the original story, visit: https://www.send2press.com/wire/new-book-and-then-i-met-you-by-mackenzie-lee-illuminates-an-enduring-and-miraculous-love-story/