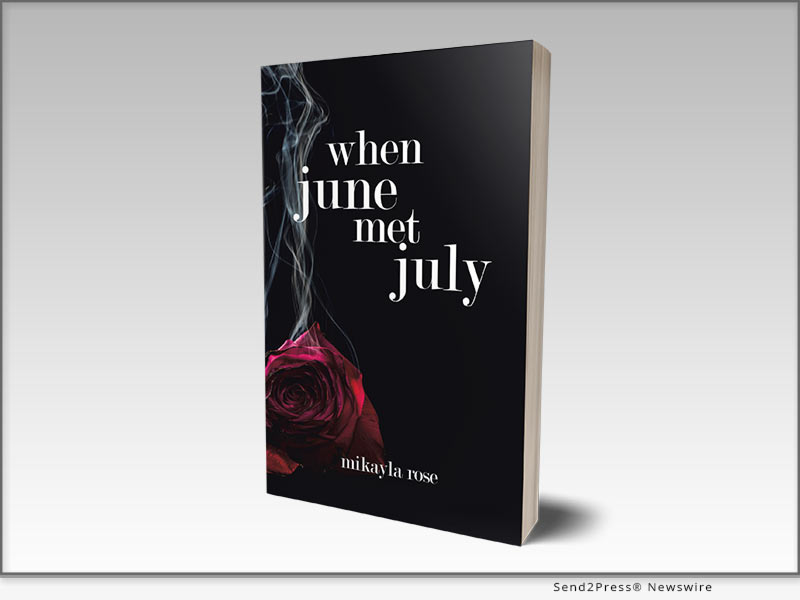 TORONTO, Ontario, Jun 20, 2023 (SEND2PRESS NEWSWIRE) — Mikayla Rose, a talented and promising English graduate, has unveiled her remarkable debut young adult novel, "When June Met July" (IBSN: 978-0228882497; April 2023). This gripping tale takes readers on an emotional journey through the complexities of love, friendship, and the challenges of navigating life's unexpected twists.
Set in the backdrop of a simple life, the story follows the young and unsuspecting Elle Rosendale, whose path unexpectedly intertwines with the mysterious and turbulent Alexandra Price. Their brief but intense romance leads to Elle experiencing her first heartbreak, leaving her searching for solace and happiness.
In a surprising turn of events, Elle finds herself forging an unexpected bond with June Reeves, a former lover of Alexandra, and June's girlfriend, Scarlett Young. Together, they rise to power alongside their newfound friends. Elle begins to find solace in June's company, experiencing the joys of friendship once again. However, their friendship faces a daunting test, forcing Elle to confront a difficult decision.
As the seasons change, Elle embarks on a journey of self-discovery, navigating the complexities of love, sex, family, and friendship. Along the way, she grapples with the challenges and revelations that shape her understanding of the world. Just when she thinks she has found her footing, a tragic, violent, and irreversible secret surfaces, plunging Elle into the depths of her past. Now, she stands at a complicated crossroads, caught in a dangerous corner.
Author Mikayla Rose brings her keen insight and literary prowess to "When June Met July." Her immersive storytelling delves into the multifaceted aspects of human relationships, captivating readers from beginning to end. With a compelling narrative, Rose explores the universal themes of love, heartbreak, and the profound impact of life-altering choices.
Mikayla Rose, a budding talent in the literary world, has created a captivating story that will resonate with readers of all ages. "When June Met July" is a testament to her literary passion and ability to encapsulate the intricate emotions of young adulthood.
"When June Met July" is now available for purchase in bookstores nationwide.
For more information about the author and her work, please visit Mikayla Rose on Instagram @mikyb_5 – https://www.instagram.com/mikyb_5/.
BOOK SUMMARY:
Author: Mikayla Rose
Email: authorpress[@]tellwell.ca
Website (Twitter): Mikayla Rose (@MikBergamin) / Twitter – https://twitter.com/mikbergamin
Buy Link: https://a.co/d/7txxybI
Genre: Young Adult
Released: April, 2023
PAPERBACK ISBN-13: 978-0228882497
Publisher: Tellwell ( https://www.tellwell.ca/ )
News Source: Author Mikayla Rose
Related link: https://www.instagram.com/mikyb_5/
This press release was issued on behalf of the news source, who is solely responsible for its accuracy, by Send2Press Newswire. To view the original story, visit: https://www.send2press.com/wire/introducing-when-june-met-july-a-captivating-young-adult-novel-by-mikayla-rose/