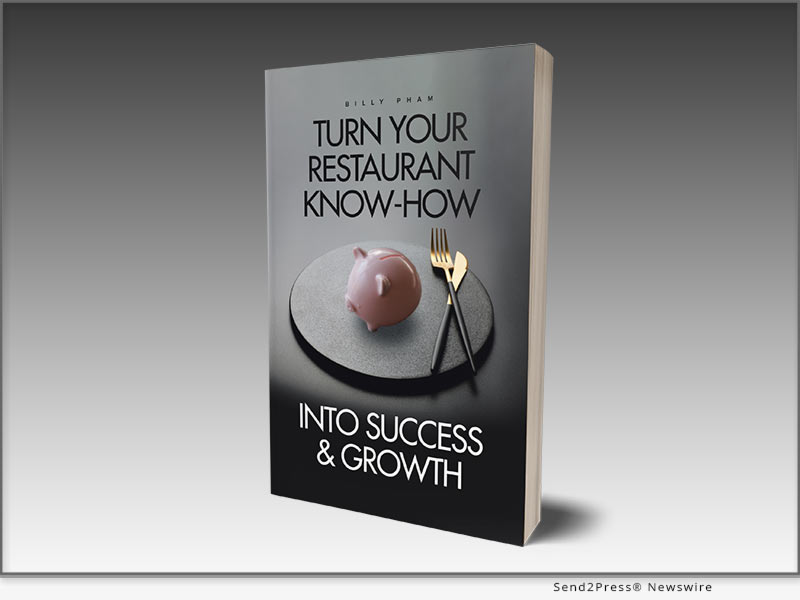 MONTREAL, Quebec, Aug 16, 2023 (SEND2PRESS NEWSWIRE) — A new beacon of guidance has emerged in the culinary world as esteemed restaurateur and author, Billy Pham, unveils his groundbreaking book titled "Turn Your Restaurant Know-How Into Success & Growth" (ISBN: 978-0228876755). With an impressive portfolio of eighteen thriving restaurants, Pham shares his wealth of expertise, offering an inside look at the strategic ingredients necessary for culinary ventures to flourish.
"Turn Your Restaurant Know-How Into Success & Growth" is a comprehensive guidebook tailored for aspiring restaurant owners, struggling restaurateurs, and those curious about the inner workings of restaurant success. Drawing on his extensive experience, Pham dissects the various facets of running a prosperous restaurant – from investors and choosing prime locations to crafting an enticing menu. The book is designed to help readers not only conceptualize their restaurant dreams but also to guide them through the crucial steps of establishing a resilient business that stands out in a competitive market.
Pham, a true industry luminary, emphasizes the importance of igniting a fervent desire to achieve one's goals as the initial spark for success. He lays out a blueprint for crafting a robust plan of action, fostering habits of repetition, embodying virtues of persistence and courage, and exercising the patience required for long-term success. This holistic approach, enriched by Pham's firsthand insights, is poised to revolutionize the way individuals approach their culinary dreams.
Readers and reviewers alike have been captivated by Pham's narrative. Reader Views described the book as an invaluable trove of wisdom, likening it to receiving a treasure chest of insights from the "king of the Vietnamese restaurant in Montreal." The book stands as a testament to Pham's exceptional culinary journey and his dedication to sharing his proven strategies for entrepreneurial triumph.
"Turn Your Restaurant Know-How Into Success & Growth" is now available for purchase in both print and ebook formats on major book retailers such as Amazon. This transformative read opens the doors to a world of culinary entrepreneurship and promises to be an essential asset for anyone with a passion for restaurant success.
For more information about Billy Pham and his transformative book, please visit his official website at https://vanthanhpham.com/.
BOOK SUMMARY:
Author: Billy Pham
Website: https://vanthanhpham.com/
Contact: https://vanthanhpham.com/contact/
Buy Link: https://www.amazon.com/dp/0228876753
Genre: Self-Help / Business
Released: July 1, 2023
PAPERBACK ISBN-13: 978-0-2288-7675-5
Publisher: Tellwell ( https://www.tellwellpublishing.com/ )
News Source: Author Billy Pham
Related link: https://vanthanhpham.com/
This press release was issued on behalf of the news source, who is solely responsible for its accuracy, by Send2Press Newswire. To view the original story, visit: https://www.send2press.com/wire/highly-successful-restaurateur-proprietor-releases-how-to-tell-all-book-on-achieving-restaurant-success/