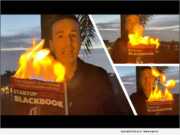 YUCAIPA, Calif. /California Newswire/ -- Swiss Business Tools announced the release of the groundbreaking book "STARTUP SECRETS BLACKBOOK." The book enables a new diverse generation of post-pandemic entrepreneurs that deal with massive economic challenges, minimal consumer attention spans, and a digital first approach.
DALLAS, Texas, Oct. 29, 2020 (SEND2PRESS NEWSWIRE) -- Many employees believe they aren't being paid to think. In "The Thinking Advantage," author Jill Young shares the dynamic algorithm for creating and building a strong company. When everyone at the company is really thinking, miraculous changes can happen!
SACRAMENTO, Calif. /California Newswire/ -- Senior Living Foresight announced today that the Founder and Publisher Steve Moran, an industry pundit, shares his leadership philosophies in his newly published book, "Lead Don't Manage" (ISBN: 978-1734686401). His company is a content creation platform assisting providers to operate excellent senior housing communities.
LOS ANGELES, Calif. /California Newswire/ -- "Budgeting Doesn't Have to Suck: For Young Adults Who Want More Money" (ISBN: 978-0989196703) by Jim Miller is written for younger adults who need to put more money in their pocket now. Published by RMW Publishing, the tips inside this book are easy to digest and implement and an added perk is that it's free to those who cannot afford the $8.99 price tag - no questions asked.