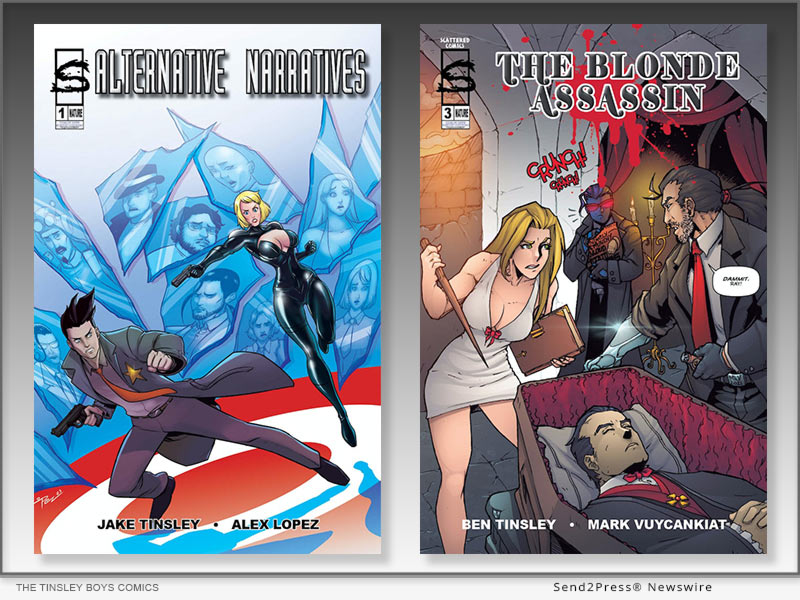 FORT WORTH, Texas, Apr 25, 2023 (SEND2PRESS NEWSWIRE) — Since he was 12 years old, Jake Tinsley has written and promoted his own professional comic books. Now, the 28-year-old Jake is debuting a brand new adult horror title "ALTERNATIVE NARRATIVES" which is being sold in a powerful Kickstarter, side-by-side with "THE BLONDE ASSASSIN" title written by his father Ben Tinsley. The father and son comprise the TINSLEY BOYS writing team who work out of Jason Dube's Sacramento-based Scattered Comics. They are best known for their "NIGHT OWL" character, a young shaman protecting the balance of the universe.
"ALTERNATIVE NARRATIVES" marks Jake's first comic book title without his father's writing assistance. Jake decided it was time to work alone on Alternative Narratives while his father focused completely on his other projects.
"Comic book production is a ferocious but rewarding process," Jake Tinsley said.
"It takes an incredible amount of work on everyone's part to get these comics finished – and that's just the writing and editing," Jake said in a recent interview, "After Dad and I finished THAT, our scripts then went to Mark Vuycankiat for art and Diego Vasquez for color on 'Blonde Assassin' and Alex Lopez for art and Mike Stefan for color on 'Alternative Narratives.' And insane number of top-level guest artists helped with the covers."
Phil Lockler, who promotes TINSLEY BOYS projects with Tricia Locker, said both comics are a blast to read.
"Prepare yourselves," Lockler chuckled. "They're coming in HAWT!"
In a storytelling sense, "BLONDE ASSASSIn" and "ALTERNATIVE NARRATIVE" dovetail with one another, Jake explained. There is a loose but undeniable connection between assassin sisters Surrender (The Blonde Assassin) and Monique (The Blonde Bombshell from "ALTERNATIVE NARRATIVES") who each live on alternate earths and each believe the other sister is dead. (Well, actually they ARE, in a WAY, but that's a LONG STORY.)
The online video promotion is available on YouTube at: https://www.youtube.com/watch?v=05upLV5OoPs
"Be WARNED: Both of these comic books are more 'Rated R/Adults Only' than most," said Ben Tinsley, a writer, film actor, singer and former journalist.
"These are nowhere near the Rated G or PG stories you might expect reading 'Night Owl,'" Ben Tinsley said. "Jake and I will be working together again on another horror title, 'DJINN STALKERS,' and some really cool other projects. But you'll find with this title that his writers voice is a bit different from mine. Meanwhile, Jake's getting so engaging with his writing. It's a joy to watch him continue to grow."
Jake marvels at the TINSLEY BOYS comic book titles now occupying a virtual spinner Kickstarter rack online – https://www.kickstarter.com/projects/ba3-altnarratives/the-blonde-assassin-3-and-alternative-narratives-1
Jake described it as a menagerie of comic books with little artistic "add-ons" that do with comic books what an ice cream stores do adding nuts, chocolate and other items to flavors such as vanilla.
Inspired by the memory of Jack B. Tinsley, Jake's grandfather and Ben Tinsley's father, the Tinsleys have published an incredible amount of comic book material over the years. In addition to comic books, they produce the one-page, four-panel Night Owl web comic they circulate online for free die for fans.
Jake's work has attracted much attention over the years. When Jake was 14, he was interviewed on The Today Show in recognition of his comic book "Amber Hagerman Deserves Justice: A Night Owl Story," which despite his young age earned him critical acclaim.
Over the years, Jake Tinsley has appeared on numerous news shows, such as FOX, CBS and WFAA. During the "Amber Hagerman Deserves Justice" promotion, he spoke during a live stand-up WFAA news segment that was seen throughout the Dallas Fort Worth area.
Former Texas Gov. Rick Perry named him a "Shining Star of Texas" in response to his work on on the later title "NIGHT OWL: Bullies Deserve Justice."
Now that Ben Tinsley was successful with his previous Blonde Assassin Kickstarter, the TINSLEY BOYS are expanding and in the process of adapting "Night Owl" to film – casting Jake's brother Camden Lee as the flagship hero. But the writing will continue, the Tinsleys said.
That kickstarter, meanwhile, began last week. The TINSLEY BOYS comic books and Blonde Assassin back issues can be purchased at: https://www.kickstarter.com/projects/ba3-altnarratives/the-blonde-assassin-3-and-alternative-narratives-1
News Source: TINSLEY BOYS
Related link: https://www.scatteredcomics.com/ben-tinsley
This press release was issued on behalf of the news source, who is solely responsible for its accuracy, by Send2Press Newswire. To view the original story, visit: https://www.send2press.com/wire/comic-book-child-star-grows-up-to-partner-with-writer-father-on-kickstarter-horror-titles/