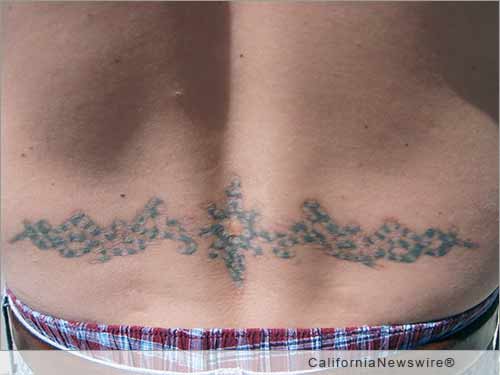 PACIFICA, Calif. /California Newswire/ — Sympathizing with those who started their tattoo removal process but whose service provider could no longer continue with the process, Rejuvatek Medical, Inc. of Sandy, Utah, flew in a top tattoo artist from Virginia, Melissa Lukeson, in order to continue the tattoo removal process for those "incompleted" customers.
Tatt2Away(R), a new patented non-laser tattoo removal technology, was developed by Rejuvatek Medical and began their marketing on the east coast where it has caught on like wildfire among tattoo studios and individuals wanting their tattoo removed. However, only one salon in California was forward-thinking enough to offer the brand new technology on the west coast. Shortly after opening an authorized Tatt2Away center the owner learned of an un-related personal issue forcing her to discontinue her business, leaving customers with a polka-dot like tattoo remnant.
The partially treated customers started calling Tatt2Away(R) asking where they could continue their treatments but the technology just hadn't caught up to the west coast yet. One client flew to Pennsylvania for his second treatment and then returned home to northern California for his third treatment when he learned that the company was going to send someone to help out. Others drove three hours because they said they had done their research and would never have their tattoo removed by laser, even if it meant walking around with a half-removed tattoo for awhile.
Peter Bogdanov, owner of The Truth tattoo studio in Pacifica, offered to host the clients in need in his tattoo studio for the treatments. According to Peter, "We had been researching tattoo removal procedures not because we want to remove tattoos, but because over half of my business comes from cover ups, and selective removal of part of an existing tattoo would open up many more avenues for creativity."
He adds, "Tatt2Away has a technology that allows a reduction in the size and shape of the existing tattoo in order to plan for a better cover up. Before Tatt2Away, cover ups were usually larger and darker than the original tattoo, leaving fewer options for the next tattoo."
Lasers traditionally have removed tattoos but the value proposition for laser tattoo removal was never there; as lasers cannot remove all colors of ink, are expensive, and painful. Tatt2Away removes all colors with only minor discomfort and is far less expensive since it only takes on average 4 treatments compared to lasers with 12 treatments required.
To learn more about Tatt2Away, or to become a Tatt2Away center, please contact http://www.Tatt2Away.com/ or contact Jack Savage, Rejuvatek Medical, Inc. 855-252-2929.
For questions or comments regarding the above news announcement, contact the company/organization(s) mentioned in the text, and not this website.
Copyright © 2015 CaliforniaNewswire® and Neotrope®. California Newswire is a publication of the Neotrope News Network and a U.S. reg. TM of Neotrope.