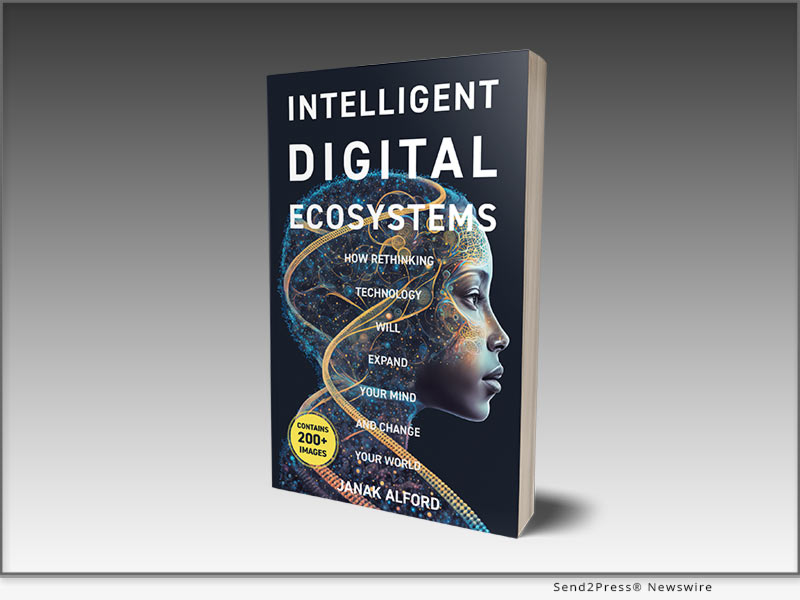 OTTAWA, Ontario, Jun 12, 2023 (SEND2PRESS NEWSWIRE) — Amidst decreasing productivity and the increasing dangers posed by Big Tech AI products, tech executive and entrepreneur Janak Alford presents a solution in his new book, "Intelligent Digital Ecosystems: How Rethinking Technology Will Expand Your Mind and Change Your World" (ISBN: 978-0228873020; May 2023).
In this transformative work, Alford offers a pioneering blueprint for personal, sustainable digital ecosystems, challenging conventional views about technology. Drawing inspiration from the human relationship to the microbiome, Alford invites readers on a journey towards harmonious interaction with technology and illuminates how properly designed digital systems can enhance our intellectual capabilities.
Using vivid visuals and accessible language, Alford outlines a practical framework to reimagine digital lives, introducing intelligent ecosystems to harness technology's transformative power, growing personal agency, and unlocking unprecedented opportunities. Alford's ground-breaking insights dispute ingrained beliefs about intelligence, culture, and creativity, paving the way for a fresh understanding of technology's potential.
"Intelligent Digital Ecosystems" further addresses corporate control and privacy risks, equipping readers with guidance on maintaining integrity in the digital age. Alford encourages readers to resist adverse impacts, embrace a new paradigm, and construct a distinctive and enduring digital world.
As a Chief Technology Officer and successful entrepreneur, Alford brings extensive experience to this work, having aided hundreds of businesses and public sector organizations in embracing digital transformation. His diverse expertise in technology, architectural and environmental design amalgamates into a compelling narrative, inspiring readers to pursue a fulfilling, sustainable digital existence.
Ideal for anyone seeking to foster a healthier relationship with technology, expand human potential, and protect themselves from Big Tech, "Intelligent Digital Ecosystems" simplifies complex concepts for understanding the future of technology and offers a treasure trove of ideas for budding entrepreneurs.
"Intelligent Digital Ecosystems" is now available in both print and digital formats.
For more information about the book and to purchase a copy, please visit https://janakalford.com/.
SUMMARY:
Author: Janak Alford
Website: https://janakalford.com
Buy Link: https://tinyurl.com/intelligentdigitalecosystems
Genre: Science, Technology, Philosophy
Released: May 2023
PAPERBACK ISBN-13: 978-0228873020
News Source: Author Janak Alford
Related link: https://janakalford.com/
This press release was issued on behalf of the news source, who is solely responsible for its accuracy, by Send2Press Newswire. To view the original story, visit: https://www.send2press.com/wire/entrepreneur-janak-alfords-new-book-reveals-revolutionary-approach-to-tech-and-personal-growth/