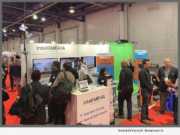 CERRITOS, Calif. /California Newswire/ -- Leading Cloud video solutions provider IntelliMedia Networks' (NAB 2019 Booth SU 8924) two products have been shortlisted for 2019 NAB Show Product of the Year Awards. The 18-year old media solutions company based out of Los Angeles, provides IP video delivery and streaming media solutions.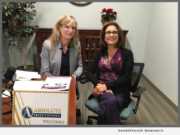 WALNUT CREEK, Calif. /California Newswire/ -- Absolute Trust Talk, a monthly podcast released by Absolute Trust Counsel, recently sat down with Dori Sproul, a family care specialist from the Alzheimer's Association of Northern California, to discuss the myths and misconceptions associated with Alzheimer's - a growing epidemic that affects more than 5 million people each year.
AUSTIN, Texas, June 25, 2018 (SEND2PRESS NEWSWIRE) -- Lykken on Lending, the mortgage industry podcast created by mortgage lenders for mortgage lenders, is pleased to announce that its June 25 episode welcomes Shelley Leonard, EVP and Chief Product Officer for Black Knight, Inc. (NYSE:BKI).
CLIFTON PARK, N.Y., June 1, 2018 (SEND2PRESS NEWSWIRE) -- In 2017, FemYoga changed the live streaming game by implementing the "viewer sponsorship" monetization model. Rather than seek to monetize through ad revenue or company sponsorships, FemYoga is viewer funded. The content is free to the public - but to keep the channel going and growing, the audience chooses to "sponsor" at their website FemYoga.com.
VERO BEACH, Fla., Jan. 9, 2018 (SEND2PRESS NEWSWIRE) -- Branding Strategist and Keynote Speaker Loren Weisman announces that he will be appearing in early 2018 on The Roberts and Lowe CEO Entrepreneur Cruise, Bob Harrison's Hawaii Increase Event, Natasha Senkovich's Intuition to Raise your income Global Summit and The Business Excellence Summit hosted by Kay Sanders. Weisman will also be appearing at a series of private engagements ranging from Atlanta to Miami in the first quarter of 2018.
MIAMI, Fla., Dec. 13, 2017 (SEND2PRESS NEWSWIRE) -- The Entercom Radio Miami produced Riptide Music Festival powered by Ford brought 37,000 people to Fort Lauderdale Beach to experience two-days of epic artists, amazing global cuisine and wine along with picture perfect weather that even included a supermoon! Riptide is produced by the staff of 104.3 The Shark, 102.7 The Beach, 101.5 LITE FM and 790 The Ticket.
OLD BRIDGE, N.J., Nov. 28, 2017 (SEND2PRESS NEWSWIRE) -- When The Bridge Christian Radio Network, based in Old Bridge, N.J., gained authorization to expand its Christian Bible teaching broadcasts into New York City in November 2013, no one could have anticipated the battle that would ensue before the station could actually begin broadcasting on its own frequency, 95.1 FM in the heart of Manhattan.
ATHENS, Ga., Aug. 30, 2017 (SEND2PRESS NEWSWIRE) -- FormFree today announced the launch of "Buzzworthy," a new podcast hosted by loan quality expert Ann Fulmer and presented in MBA Insights. Buzzworthy delivers unbiased analysis of developing mortgage industry news, market trends and regulatory updates in five minutes or less.
TAMPA, Fla., July 31, 2017 (SEND2PRESS NEWSWIRE) -- C Diff Foundation's, "C. diff. Spores and More Global Broadcasting Network," is honored to announce Dr. Edmond Hooker, MD - Associate Professor of Health Services Administration at Xavier University, Darrel Hicks, a well-known hospital environment specialist and educator, and Bruce Rippe, CEO of Trinity Guardion, manufacturer of the Trinity Guardion Patient Protective Barrier, as our guest speakers on August 1, 2017.
ATLANTA, Ga., July 20, 2017 (SEND2PRESS NEWSWIRE) -- C Diff Foundation's "C. diff. Spores and More Global Broadcasting Network" is honored to announce Doctors McDonald and Laufer-Halpin as our guest speakers on July 25, 2017 at 10 a.m. PT / 1 p.m. ET on C Diff Radio.
DALLAS, Texas, Nov. 11, 2016 (SEND2PRESS NEWSWIRE) -- Texas Country Reporter with Kelli & Bob Phillips teams up with Mueller, Inc., a leading manufacturer of steel buildings and residential metal roofing, to extend a helping hand to a Texas non-profit in need of a new facility. The Helping Hand campaign, now in its 8th year, awarded Floral Heights Community Food Pantry of Wichita Falls, Texas.
NEW YORK, N.Y., Oct. 3, 2016 (SEND2PRESS NEWSWIRE) -- "The Online Movie Show with Phil Hall," a weekly celebration of films and filmmaking, is being relaunched via a new channel and a new production outlet. Each half-hour episode will present original interviews with the creative talent on both sides of the camera.
VERO BEACH, Fla., May 15, 2016 (SEND2PRESS NEWSWIRE) -- 'Wait What Really Ok' is part radio show, part podcast, part strategy & part comic relief that takes apart the misconceptions, misunderstandings and mistakes of online branding, marketing and promotion by delivering up to date, easy to understand information that can be applied to your marketing, regardless of your business.