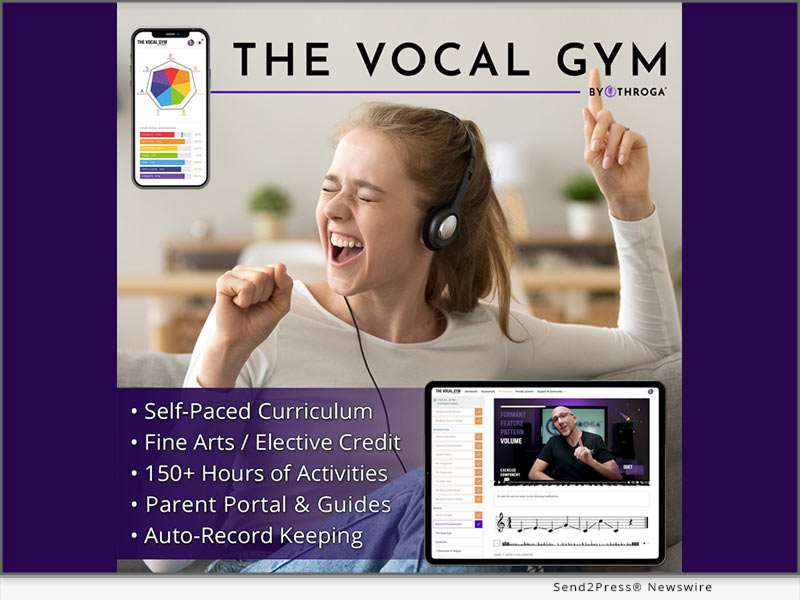 ORLANDO, Fla., May 19, 2023 (SEND2PRESS NEWSWIRE) — Throga announces a new online course for singing, specifically designed for homeschool students. Singing has long been considered outside the scope of most homeschool training, as the intricacies of the arts and technical complexities involved in vocal training present particular challenges in a home learning environment.
But now Richard Fink IV, a vocalist recognized by Guinness World Records and named "world's leading online vocal coach" by the Wall Street Journal, is set to redefine the terrain.
His revolutionary approach to vocal training will launch as the world's first ever full-credit homeschool course for singing. The course, the Vocal Gym by Throga, will be released at the FPEA Florida Homeschool Convention in Orlando on May 25th, 2023 to make singing readily accessible to all, especially homeschoolers.
Taking a scientific approach, Fink methodically dissected the voice, demystifying this instrument we cannot touch or see, and making it as teachable as any other tangible instrument. The patented technique he developed involves breaking down the voice into the 7 Dimensions of Singing: flexibility of the vocal folds, breath management, intonation for pitch control, vocal range, tonal quality, articulation of sound, and strength in maintaining vocal stability and stamina.
The course aims to spark creativity, nurture cognitive development, enhance emotional well-being, and promote self-expression and critical thinking skills. Homeschoolers can now refine their vocal skills, explore the thrill of performance, and earn a full fine arts credit, on their own time and wherever they live across the country.
Tailored for ages 12 and up, the curriculum starts with a personal vocal assessment and provides an individualized learning experience that helps students pinpoint their strengths and areas for improvement. The course boasts a rich resource of 115,000 vocal exercise combinations, over 300 educational videos, and more than 150 hours of lessons, exercises, and activities. The Vocal Gym also offers a parent portal, enabling easy tracking of student progress through automated record-keeping, taking the stress out of lesson planning.
"The course isn't just for students interested in a career in the performing arts, it can be for any student who wants to learn how to sing or to talk more confidently by using their instrument, their voice, in a much better way," said Peggy Ployhar, founder and CEO of SPED Homeschool. With performance and writing assignments and even scientific principles that can be credited for additional hours, "the Vocal Gym truly covers it all," she said. "No matter what type of learner your student is, there are text, audio, video, diagrams, and activities for them to be engaged in."
This pioneering initiative marks a significant step in enriching homeschool education, arming students with the necessary tools to cultivate essential communication and stage skills for a successful future.
To learn more, visit: https://throga.com/homeschool/
– Vocal Gym Logo: https://throga.com/wp-content/uploads/2023/05/vocalgym-logo-color.png
– Promotional Image: https://throga.com/wp-content/uploads/2023/05/VG-Product.jpg
– Testimonial Video: https://www.youtube.com/watch?v=3ebA5CDLLV4
News Source: Throga LLC
Related link: https://throga.com/
This press release was issued on behalf of the news source, who is solely responsible for its accuracy, by Send2Press Newswire. To view the original story, visit: https://www.send2press.com/wire/shattering-barriers-in-fine-arts-education-the-vocal-gym-unveils-worlds-first-full-credit-homeschool-course-for-singing/