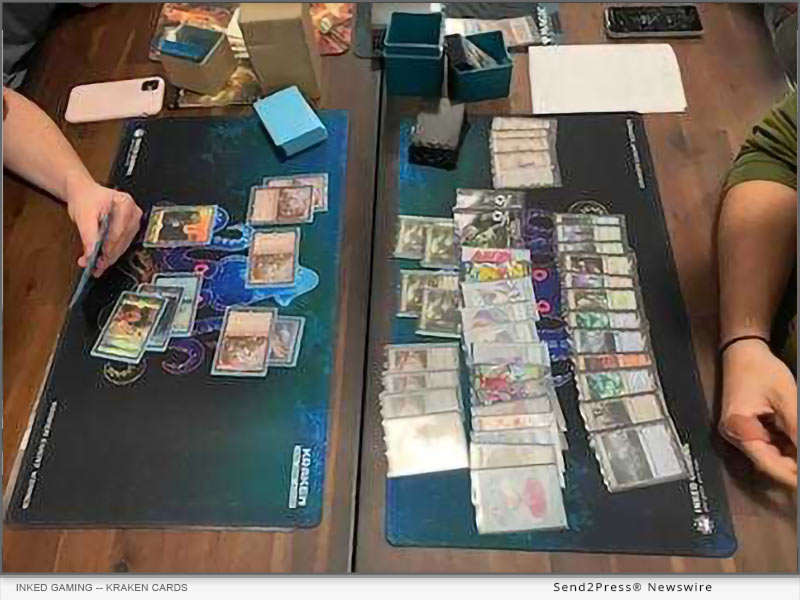 CORVALLIS, Ore., Mar 21, 2023 (SEND2PRESS NEWSWIRE) — Kraken Cards, an Inked Gaming store, is excited announce that it's working to be the go-to-spot for Oregon gamers who are looking to stock up on premium gaming gear while having some fun to boot. Ever since it opened its downtown gaming store three years ago, it's been on a mission to be the region's leading gaming supplier.
With its sights set on becoming the top gaming event space in town, Kraken Cards has plans in place that are sure to spark the interest of all gamers in Corvallis and beyond. Those plans include engaging events that will be packed with fun for trading card gamers (TGC) of all ages and experience levels.
"We're excited to continue pushing our magic regional championship qualifiers even further and to support larger and more competitive events," Kraken Cards, manager, Bill Adkins, says.
The following lists weekly events that gamers can look forward to in 2023:
* Dungeons and Dragons (D&D): Sundays at 1 p.m. – Wizards of all ages are invited to drop in and out for some D&D fun!
* Pokémon: Sundays at 3:30 p.m. and Mondays at 6 p.m. – Trainers of all ages are encouraged to stop by, especially young trainers who are looking to learn.
* Flesh and Blood: Thursdays at 6 p.m. and Saturdays at 2 p.m. – This is a community-driven game for all players and those who want help with their decks.
* Magic Pioneer: Tuesdays at 6 p.m. – This competitive environment is ideal for passionate spellcasters.
* Magic Commander: All day Wednesdays – Social Magic for players of all levels who wish to hone their skills.
* Magic Friday Night Magic (FNM): Fridays at 6 p.m. and 6:30 p.m. – For new players, draft begins at 6 p.m. followed by modern format for competitive spellcasters.
So, no matter the time of day or game played, the Kraken Cards' team is ready to meet some local wizards, trainers and spellcasters who stop in for a quick – or long battle. Kraken is committed to creating a fun, friendly environment that all gamers can enjoy. Even if gamers don't have time for a game, the Kraken team will see to it that they find what they're looking for, so they're ready the next time.
"We want to grow all the possible event games we can and ensure the community always has a place to sit down and play," Adkins shares.
Kraken Cards is also working to build community through its Consortium rewards program which offers special discounts and event opportunities to everyone who joins.
"My vision for Kraken Cards is for us to continue to build up the community and we're excited for more events and special occasions for everyone," Thomas Pool, founder and CEO, Kraken Cards, says. "Community, fun and inclusivity; that's what we're all about."
About Kraken Cards
Located in the heart of downtown Corvallis, Kraken Cards is a place where gamers can not only shop, but have fun doing it. They will find all the necessary essentials to enhance game play – sports cards, playmats, deck boxes, sleeves, collectibles and so much more. No matter what the TCG, Kraken Cards helps gamers to find the best gear for their favorite game.
For more information: https://www.krakentradingcards.com/
News Source: Inked Gaming
Related link: https://www.inkedgaming.com/
This press release was issued on behalf of the news source, who is solely responsible for its accuracy, by Send2Press Newswire. To view the original story, visit: https://www.send2press.com/wire/kraken-cards-builds-oregon-gaming-community-continues-growing-magic-regional-championship-qualifiers/