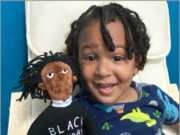 MIAMI, Fla., Sept. 13, 2021 (SEND2PRESS NEWSWIRE) -- The day after the American Thanksgiving Day holiday has long been considered the biggest shopping day of the year in the United States. Dubbed "Black Friday" for many reasons. Empire License, Inc. is now very excited to introduce to the world their very own version of Black Friday: "Black Friday" the character, in the formation of animation and plush dolls.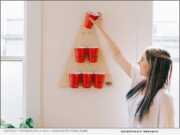 PORTLAND, Maine, May 4, 2021 (SEND2PRESS NEWSWIRE) -- Zootility, a design-driven U.S. manufacturing company, proudly announces the next great innovation in recreational games - a wall-hung beer pong game. Free Pong is quick to pick up and play and easily converts into minimal home décor when not being played.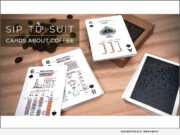 SAN ANTONIO, Texas, Oct. 29, 2020 (SEND2PRESS NEWSWIRE) -- Something new and exciting is brewing at Art of Caffeination, a new design business that focuses on products that are all things coffee. Its first product launch - a quick-reference deck of coffee playing cards - is designed for coffee lovers, enthusiasts and gamesters alike to not just have fun, but learn something too.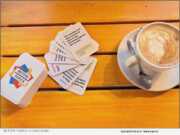 SHEFFIELD, U.K., June 11, 2020 (SEND2PRESS NEWSWIRE) -- A new card game is on the horizon that has the potential to strengthen and improve relationships. Better Topics, a replayable card game created by Diana and Robert Indries, is a catalyst to help people have more fun, more meaningful conversations and better communication.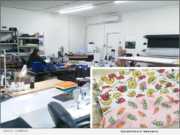 CORVALLIS, Ore., April 8, 2020 (SEND2PRESS NEWSWIRE) -- When healthcare workers around Oregon started asking for hand-sewn mask donations, Oregon-based gaming supplies company, Inked Gaming, answered the call. It quickly set its sewing team into action to create more than 15,000 face masks that will be donated to hospitals and first responders suffering from the state's personal protective equipment (PPE) shortage.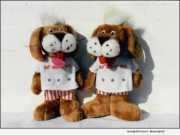 MIAMI, Fla., Jan. 8, 2020 (SEND2PRESS NEWSWIRE) -- Dating back to the late 19th century we've all heard and possibly even used the phrase "Hot Diggity Dog." The phrase is used as an exclamation of surprise and delight. Today, A Good Health Company, Inc. (DBA Hot Diggity Dog Entertainment) would like to take this opportunity to introduce on a national level, the character "HOT DIGGITY DOG!" The All-American Airedale.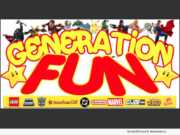 PLANT CITY, Fla., Nov. 25, 2019 (SEND2PRESS NEWSWIRE) -- The Generation Fun Toy Store, which houses a massive selection of collectible toys also offers the state's largest collection of the 'Masters of The Universe' series. With collectibles for older generations, newer generations and everything in between.
SACRAMENTO, Calif. /California Newswire/ -- Funbee Toys is a one-of-a-kind toy library in the greater Sacramento area that also serves as a meetup for families with babies to preschoolers. The Funbee Toys Events meetup is the RSVP site for toy pick-ups as well as other community events such as potluck picnics, and outings to child-centered locations.
CARSON, Calif. /California Newswire/ -- Wham-O, the iconic all-American recreational toy brand, will release a new commemorative book marking the 70th anniversary of the company. The book, entitled "SUPER BOOK - Fantastic Tales From Inside The Fun Factory" (ISBN: 978-0692163054), takes readers on a journey through the innovation and imagination that led to the creation of some of the world's most inventive, beloved toys and games that every family has played with for the last 70 years.