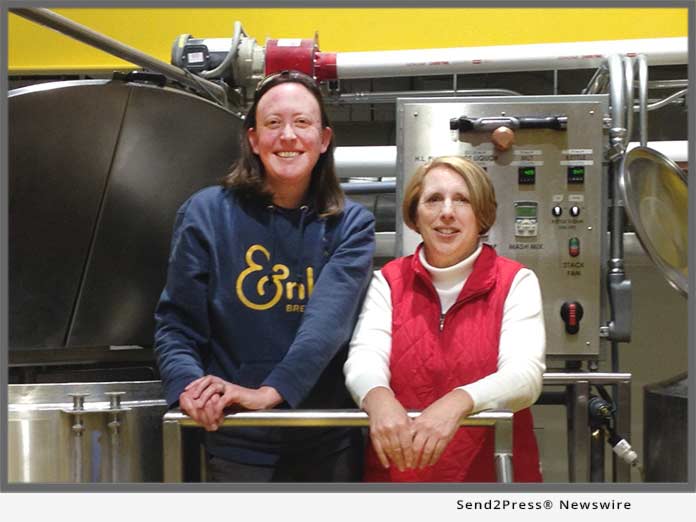 VICTORIA, Minn., Feb 27, 2019 (SEND2PRESS NEWSWIRE) — ENKI Brewing Company announced the launch of Raspberry Bomb Saison (RBS) March 8 in its taproom, highlighting the exploding role of women in the beer business. ENKI Brewer, Kendra Gephart, created RBS using a blend of hops developed by the members of Pink Boots Society. The special hops blend is part of Pink Boots Society's Collaboration Brew Day to promote gender balance in the brewing industry-in keeping with the theme of International Women's Day on March 8.
ENKI Brewing is donating a portion of proceeds from RBS to the Pink Boots Society to support educational scholarships for women in the brewing industry.
Kendra designed Raspberry Bomb Saison to reflect her own preferences for the fruity spiciness of the Belgian Saison style. She emboldened it with raspberry tartness and named it the bomb to emphasize the exploding role of women in brewing as consumers, brewers and business leaders.
ENKI is officially launching Raspberry Bomb Saison in its taproom March 8th, coinciding with International Women's Day. Kendra will be in the taproom that evening discussing her passion for brewing, experiences in an occupation traditionally held by men, and her thoughts on the future for craft brewing and women in the industry.
Kendra teamed up with Amy Shishilla from Waconia Brewing as part of the Pink Boots Society Collaboration Day Project. "Working with Amy gave me an opportunity to share some of the different features of our brewing system. I'm looking forward to spending a brew day with Amy at Waconia Brewing to experience other variations of brewing techniques. Supporting each other makes us better brewers and creates important connections among women in our industry." observed Kendra.
ENKI Brewing Controller, Jeanne Arnst, and Brewer, Kendra Gephart highlight the expanding role of women in the beer business as customers and company leaders. "This year Jeanne's role was expanded to lead every aspect of our business, including brewing operations, distribution, and the taproom/events center," commented Co-Founder, John Hayes. "Our guiding principle, 'Better Together' encourages us to take an inclusive perspective in our actions. 'Better Together' naturally fosters diversity, develops individuals, and promotes stronger teams.
Jeanne Arnst added, "I've always considered myself a bit of a rebel. Breaking down barriers that have prevented more women from participating fully in any endeavor is just part of my nature. I'm thrilled that Kendra has chosen to highlight the value of women in our industry. Also, she's just good at what she does so I'm proud that we have this opportunity to feature her talent on International Women's Day.
About ENKI Brewing:
Since opening in the historic Victoria Creamery in 2013, ENKI Brewing has been an essential part of the local community. ENKI now occupies a 20,000 sq.ft. facility with 150 seat taproom and 200 seat event center overlooking the brewhouse. We seek to be #bettertogether by creating positive gathering spaces for nurturing lasting friendships and by contributing to local non-profit causes aligned with our mission to make the world a friendlier place.
We are inspired to brew beer that fosters communion, congregation, and conversation. We believe that experiences shared together lead to enduring friendships. And, we are committed to working together to make our beer the best it can be today and even better tomorrow. Learn more: http://www.enkibrewing.com/
About Pink Boots Society:
The Pink Boots Society was created to assist, inspire and encourage women beer industry professionals to advance their careers through education by instilling attendees with hard takeaways and valuable knowledge along with invaluable networking with women working in all facets of the global beer industry.
Pink Boots Collaboration Brew Day was born from our members' desire to take part in International Women's Day (IWD) March 8 by raising the profile of women's roles in the beer industry. Proceeds from sales of these collaboration brews are applied to educational scholarships. Learn more: https://www.pinkbootssociety.org/
About International Women's Day:
International Women's Day is celebrated annually on March 8, yet the global campaign theme continues all year long to encourage action. The International Women's Day website is the go-to hub for everything IWD and provides detailed information, guidance and resources. The IWD 2019 campaign theme of #BalanceforBetter is a call-to-action for driving gender balance across the world. Learn more: https://www.internationalwomensday.com/
ENKI Brewing, 1495 Stieger Lake Lane, Victoria, MN 55386. Phone: (952) 300-8408.
News Source: ENKI Brewing Company
Related link: http://www.enkibrewing.com/
This press release was issued on behalf of the news source, who is solely responsible for its accuracy, by Send2Press Newswire. To view the original story, visit: https://www.send2press.com/wire/enki-brewing-launches-raspberry-bomb-saison-brewed-for-pink-boots-collaboration-brew-day-a-celebration-of-international-womens-day/