FREMONT, Calif. /California Newswire/ — Delta Care Rx, a leading pharmaceutical innovator in end of life care, has been named one of the "Top 10 Pharmacy Management Solution Providers of 2018," according to Healthcare Tech Outlook, a digital and print magazine publication of Valley Media, Inc.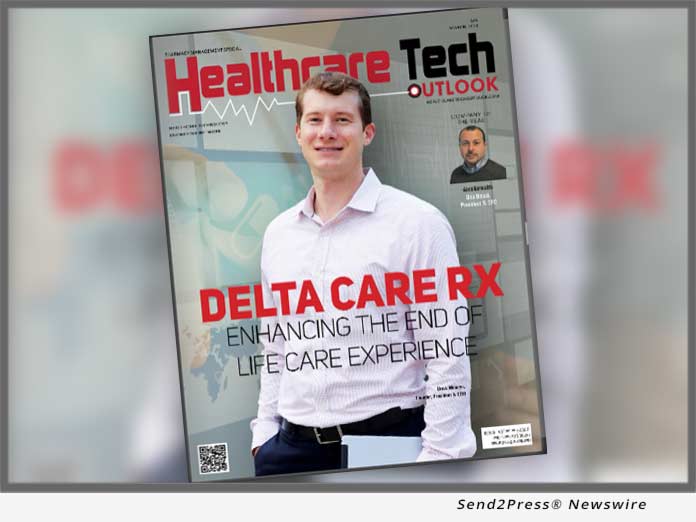 The "Top 10" award was published online March 27, as well as in a Special Issue print edition on April 5, with Delta Care Rx Founder, President, and COO Drew Mihalyo on its cover. Mihalyo, known for his commitment to technological innovation providing unique programs for hospice customers exclusively offered by Delta Care Rx, is quick to share the credit for the company's success.
"This recognition is a testament to the strength and commitment of the entire Delta Care Rx team," says Mihalyo. "We work together, both within Delta and with our integration partners, to ensure prompt attention and great sensitivity to meet each patient's needs related to pain and symptom management."
The in-depth feature article, "Delta Care Rx: Enhancing the End of Life Care Experience," states that the company "sets the industry benchmark in pharmaceutical benefits management in end of life care," fulfilling its mission of transparency and commitment to quality of care at every level of the organization. In addition to providing benefit management or mail order pharmacy to clients, Delta Care Rx offers a range of cutting edge telemedicine solutions designed to simplify workflow and ordering processes and improve quality of care. The article places these within the context of the broader pharmaceutical and end of life care industries.
"We take pride in honoring Delta Care Rx for offering innovative solutions that are revolutionizing the way hospice and palliative care providers are served in the Pharmacy Management arena," said Alex D'Souza, managing editor of Healthcare Tech Outlook.
With the announcement, Delta Care Rx joins an elite group of pharmacy management solutions providers known to provide innovative technologies which ultimately enhance clinical efficiency and dramatically reduce costs for hospice organizations. The magazine's editorial board independently applied a set of criteria to a broad selection of pharmacy management firms, then narrowed the designation to the Top 10 listing.
Delta Care Rx – http://www.deltacarerx.com/ – transforms and improves the hospice pharmacy industry through business transparency, innovation, extreme customer service, and the maintenance of vital community pharmacy relationships.
About Delta Care Rx:
As a pharmacist owned, privately held provider, Delta Care Rx – http://www.deltacarerx.com – sets the industry benchmark for pharmacy benefit management, creative prescription mail order, on-demand pharmacist services, and hospice tailored e-Prescribing. Additionally, Delta Care Rx offers electronic tools, including cutting-edge telemedicine technology, to improve the quality of palliative patient care during serious illness or at end of life and simplifies essential workflow/ordering processes within hospice settings.
About Healthcare Tech Outlook:
Published from Fremont, California, Healthcare Tech Outlook is a print magazine, which features CIOs, ITVPs, CTOs, and other decision makers sharing their insights and perspective on healthcare industry. A panel of experts, technology leaders and board members of Healthcare Tech Outlook magazine has finalized the "Top 10 Pharmacy Management Solution Providers 2018" and shortlisted the best vendors and consultants in the healthcare industry. For more info, visit: https://www.healthcaretechoutlook.com/.
News Source: Delta Care Rx