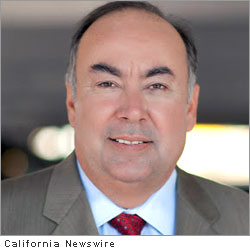 MONTEBELLO, Calif. /California Newswire/ — Tom Calderon's campaign for Calif. State Assembly announced the endorsement of the California Professional Firefighters Association today. Calderon's public safety endorsements also include the Los Angeles County Firefighters (IAFF Local 1014), Montebello Firefighters Local 3821, the Association for Los Angeles Deputy Sheriffs (ALADS), the California Association of Highway Patrolmen (CAHP) and the Police Officers Research Association of California (PORAC).
"We are proud to announce our support of Tom Calderon for Assembly," said California Professional Firefighters President Lou Paulson. "As firefighters, our job is to step into a crisis and protect the people in danger. California needs the same thing from our State Legislature. Tom Calderon has the on the job experience and character we need to create jobs, protect public safety and stand up for first responders and California families."
With a membership of more than 30,000, California Professional Firefighters (CPF) is the largest statewide organization dedicated exclusively to serving the needs of career firefighters. It has over 175 local affiliates throughout the state and is one of the nation's strongest and most influential public employee organizations.
Calderon is running in California's 58th Assembly District, which includes the cities of Artesia, Bell Gardens, Bellflower, Cerritos, Commerce, Downey, Montebello, Pico Rivera and portions of Norwalk. He represented the 58th State Assembly District from 1998-2002 and previously served on the Montebello Unified School District.
Tom comes from a family of local public servants that have represented the Gateway Cities and San Gabriel Valley in some capacity for most of the last 30 years. His older brother, Charles Calderon, has served in the State Legislature for over twenty years and is the first person to serve as Majority Leader of both the State Senate and State Assembly. He is a former Montebello Unified School District Board Member and State Senator, and he currently serves as Assembly Majority Leader. Tom's younger brother, Ron Calderon, succeeded him in the State Assembly and currently represents the 30th State Senate District. Tom's late wife, Marcella Calderon, served as a member of the Montebello Unified School District Board of Trustees from 1999-2012.