SACRAMENTO, Calif. /California Newswire/ — This week, Planned Parenthood Affiliates of California (PPAC) recognized Calif. Senator Isadore Hall's (D – South Bay) unwavering commitment to reproductive health and women's rights with an approval rating of 100% in their 2015 State Senate Legislative Scorecard.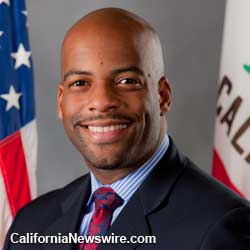 Every year PPAC releases a legislative scorecard intended to quickly and clearly inform voters about how their state representatives voted on key issues relating to reproductive health, women's rights, access to affordable healthcare, and sexual education. PPAC determines scorecard ratings by evaluating the voting record of each state legislator and taking note of how every official voted on legislation that directly impacts women's health or right to choose. A 100% approval rating indicates that a legislator served as a strong ally to PPAC and supported every bill on the organization's 'high priority' list.
As evidenced by his perfect score in PPAC's yearly legislative review, Senator Hall has been a staunch advocate for women's rights and has a long history of supporting forward-thinking legislation that protects women's agency, expands health and sex education in public schools, and works towards securing quality healthcare for all.
Upon receiving the news of his exceptional rating in the 2015 Legislative Scorecard, Senator Hall stated, "I want to thank Planned Parenthood Affiliates of California for their recognition of my strong legislative record and resolve to protect women's rights in the California State Senate. While we have made progress in the last few years, there is still much work to be done. I will continue to fight for equal pay, representation, education, and employment opportunities for women in the legislature and defend women's right to choose on all reproductive healthcare matters."
Isadore Hall, III, represents California's 35th Senate District that includes the communities of Carson, Compton, Gardena, Harbor Gateway, Hawthorne, Inglewood, Lawndale, Lennox, Lynwood, North Long Beach, Rancho Dominguez, Rancho Palos Verdes, San Pedro, South Los Angeles, Torrance, Watts/Willowbrook and Wilmington.