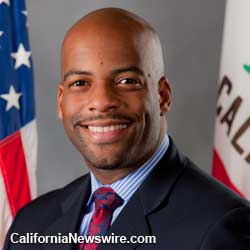 COMPTON, Calif. /California Newswire/ — California State Assemblymember Isadore Hall announced his campaign for Congress today. Hall intends to run in a new Congressional District, which according to the first draft of maps released by the California Citizens Redistricting Committee on June 10th, might include the cities of Compton, Carson, Lynwood, Hawthorne, Gardena, Lawndale, portions of the City of Los Angeles and Unincorporated Los Angeles County.
"As a local School Board Member, Councilmember and Assemblymember, I have worked tirelessly to make a difference in this community," said Hall. "Our district needs a representative that will fight cuts to education and gang prevention programs, protect critical frontline services, and partner with President Obama to create family wage jobs."
"I have spent the past few days talking with friends and community leaders about running for this new seat," Hall added. "The response has been overwhelming and I am energized by the grassroots support we have already received."
Hall is a former two term President of the Compton Unified School District Board of Trustees. He was elected to the Compton City Council in 2003 where he served in various leadership positions including Mayor pro Tempore. Hall was elected to the California State Assembly in 2008 and served as Assistant Speaker pro Tempore during his first term. He currently serves as a member of the Appropriations, Elections and Redistricting and Human Services Committees. He chairs the Assembly Committee on Government Organization.
The youngest of six children, Hall was born and raised in the City of Compton. Hall holds a bachelors degree in Business Administration, a Masters Degree in Management and Leadership from the University of Southern California, a Masters Degree in Public Administration from National University and will be conveyed his Ph.D. from Next Dimension Bible College later this summer.
No incumbent member of Congress currently lives in the proposed Congressional District; however, Hall will not seek election to Congress in the event that Congresswoman Maxine Waters seeks to represent the new district.