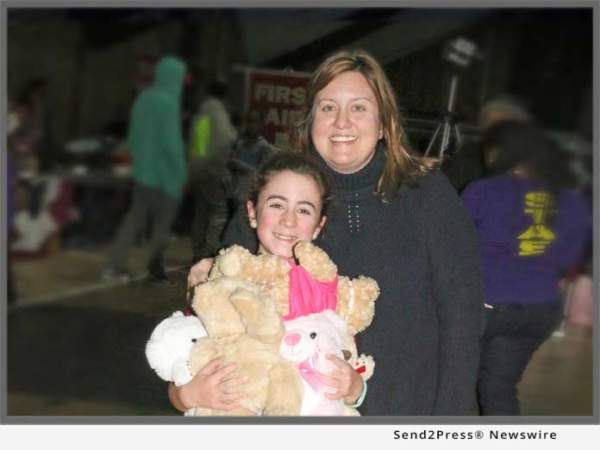 BROOKLYN, N.Y., Jan 16, 2018 (SEND2PRESS NEWSWIRE) — From an initial field of thousands, some 445 girls and young women from elementary school through college and beyond, have scored points to earn a spot in the semi-finals of the 44th annual Colgate Women's Games Track and Field Series. From Georgia to Massachusetts, these gifted young competitors include some of the nation's top-ranked athletes in their events and divisions.
In the High School Division Friday:
– Sprint sensation Iantha Wright of Queen's Collegiate won the 55M, setting her own personal record in a fast 7.02.
– Hurdles champion Sophia Meyers of Queens High School of Teaching, finished undefeated with a win in 8.08, her fastest time of the series.
– In the 200M, Maya Cheatham of Queen's Young Women's Leadership School, won in 25.41. Chatham climbed all the way from 8th place at the first prelim to win with her personal best and the fastest time by anyone in the series so far.
– In the 400M, Jasmine Douglas Grant of Stroudsburg, PA crossed the tape in 58.37, with Brooklyn's Daniella Griffith of Medgar Evers College Prep, a close second in 58.75.
– New Jersey Junior Olympic Champion Athing Mu of Trenton High School scored another double win, with victories in the 800M (2:16.48) and the1500M (4:50.01).
– New York's Mariam Cisse of Promise Academy II, won the shot put with her season's best toss (11.79M).
– Brooklyn's My'Khiyah Williams of Benjamin Banneker cleared the high jump bar at 5'4″ for the win.
In the Mid School Division Saturday:
– In the 55M and 200M, four-time record holder Avery Lewis of Wesstown School, PA finished another perfect season with another double win in (7.13) and (25.58).
– Hurdles champion Peyton Rollins of Andrews MS in Medford, MA finished undefeated with another personal best (8.25).
– In the 400M, Simone Kelly of Wissahickon MS in Ambler, PA remained undefeated with her win in 59.48, also a personal record. Eyota Bey of Cedarbrook MS in Wyncote, PA finished a close second in 59.68.
– In the 800M, New Jersey's Maameyaa Nyinah of Woodbridge MS scored an upset victory over last season's reigning champion Alina LaForest with a victory in 2:19.18. LaForest of Drexel Neumann Academy in Chester, PA finished a very close second in 2:19.41.
– Brooklyn's Rainn Sheppard of MS 313 heads to the semi-finals undefeated after her first place in 4:46.95.
– Rowan Houston of Rye Country Day School cleared the High Jump at 5'2″
– New Jersey's Melissa Aymil of Mendham, MS, remained undefeated in the shot put with a personal best toss of 11.34M.
Meet Director Cheryl Toussaint thanked all parents and coaches for their dedication, and encouragement throughout the preliminary meets. "We're so thankful to share in the privilege of helping your children discover and develop their abilities. To all those who are not semi-finalists, please know that each of you share in the success of our entire series, and we hope you've had a positive experience and will continue to pursue your academic and athletic goals," she said.
While the Colgate Women's Games have produced hundreds of national champions and boast 26 Olympians as alumnae, Toussaint says the Colgate Women's Games were founded to reach and impact the many thousands who don't draw the spotlight at the finish line.
"Countless participants who aren't making sports headlines are enjoying individual achievements that build self-esteem that will continue to have a positive impact throughout their lives," Toussaint said.
On Saturday, event officials paused to recognize one such special student that represents the thousands who are encouraged by a teacher, coach or parent to participate simply to learn to challenge themselves an atmosphere of friendly competition.
Eleven year-old Isabel Slippen of Pierre Van Cortlandt MS, Croton-on-the-Hudson, NY, first joined as an Elementary A competitor, and despite never earning points to move ahead to the semi-finals continued to return each week every year through mid school, where she still competes in the 800M and 1500M races. Officials noticed long ago how after her race, Isabel found her way to other competitors in her heats to offer congratulations with a handshake, high five or friendly hug and words of encouragement.
While many were brought to tears by the impromptu honor, Slippen herself seemed stunned. Toussaint said, "Isabel's kind spirit comes so naturally, and her friendly ritual is so genuine; her selfless encouragement and happiness for others' success is truly what we strive for at the Colgate Women's Games."
Saturday's emotional highlight was even more special with a surprise visit by founder Fred Thompson, who was pleased to watch his 44-year legacy still breeding this kind of success.
Results for all other divisions are available at colgategames.com, where a complete list of semi-finalists will appear on the home page on January 19, 2018.
Semi-finalist will compete on Saturday, January 27, 2018 to determine finalists who will compete at the New Balance Track and Field Center at the Armory, NYC on Saturday, February 10, 2018, where trophies and educational grants-in-aid from Colgate-Palmolive Company are awarded to top place finishers in each grade division.
Coaches, recruiters, athletes and fans can follow scores each week at http://www.colgategames.com/. Tickets to the Armory finals are free by request at colgategames.com or via email colgategamestix@gmail.com
*PHOTO 1: Send2press.com/300dpi/ 18-0116s2p-Isabel-Maria-300dpi.jpg
Photo 1 Caption – Mid school student Isabel Slippen of Hudson, NY shown with her mom Maria, was recognized for exemplary sportsmanship as officials noticed a long standing friendly ritual of encouragement of others after each race since joining as an elementary A competitor, at the final preliminary meet of the 44th annual Colgate Women's Games held at Pratt Institute, Brooklyn, NY this weekend.
*PHOTO 2: Send2press.com/300dpi/18-0108s2p-wright-white-300dpi.jpg
Photo 2 Caption – Sprint champion Iantha Wright of Queens Collegiate wins the High School 55M In 7.02; her personal best; at the final preliminary meet of the 44th annual Colgate Women's Games this weekend at Pratt institute, Brooklyn, NY.
News Source: Colgate Women's Games
Related link: http://www.colgategames.com/
This press release was issued on behalf of the news source, who is solely responsible for its accuracy, by Send2Press Newswire. To view the original story, visit: https://www.send2press.com/wire/nations-best-track-stars-head-to-semi-finals-of-44th-annual-colgate-womens-games/