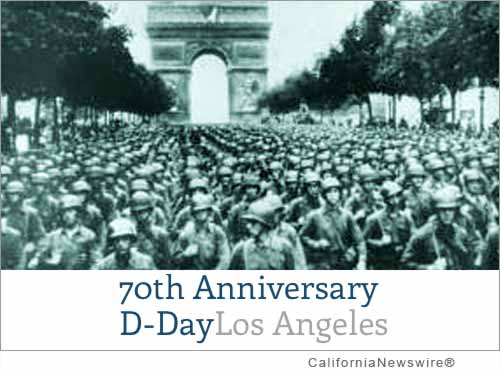 VAN NUYS, Calif. /California Newswire/ — The Heritage League of the Second Air Division, and celebrated philanthropists Jane and Bert Boeckmann of Galpin Ford, today announced today they have joined forces to honor WWII Veterans at the 70th Anniversary D-Day Luncheon at the 94th Aero Squadron in Van Nuys on Friday, June 6, 2014 at 10 a.m. All WWII Veterans, friends and family are encouraged and invited to attend.
Led by Master of Ceremonies and "Glee" star, Bill Jones, the program includes the French Consul General of Los Angeles, M. Axel Cruau, and WWII Jewish-French spy and author of Behind Enemy Lines, Marthe Cohn, among other notable dignitaries.
The event commemorates the 70th anniversary of the D-Day Invasion of Normandy, when American and British forces attacked German-occupied France during World War II on June 6, 1944. Fourteen B-24 bomb groups of the Second Air Division, along with the B-17's of the First and Third Bomb Divisions of the 8th Air Force, dealt a crippling blow to the German military-industrial complex.
Although the war would continue, the D-Day invasion marked the downfall of Germany's 'Thousand Year Reich' and the beginning of the victory for the Allies in Europe. Nazi Germany surrendered less than a year later.
For more information and luncheon tickets please contact D-Day Event Chairman, Peggy Learman at (818) 366-6972 or whiteplains38@aol.com or visit http://www.ddayanniversaryla.com/ .
About The Heritage League:
The Heritage League (or HL) was established in 1987 by its parent organization, the Second Air Division Association (or 2ADA). The HL mission is educating following generations about the sacrifices of our forbears of the Bomb and Fighter Group Second Air Division in WW II. We do this through informative publications, presentations, this website and a host of other social and educational programs. We actively support related efforts such as the "living legacy" Second Air Division USAAF Memorial Library, in Norwich, England, The 8th AF Historical Society, and the Mighty Eighty Air Force Heritage Museum near Savannah. Our mission is big, challenging, and exciting. We want your energy, vision and talent. The Heritage League is a 501(c)3 nonprofit org. More information: http://www.heritageleague.org/ .
Copyright © 2014 CaliforniaNewswire® and Neotrope®. California Newswire is a publication of the Neotrope News Network and a U.S. reg. TM of Neotrope.