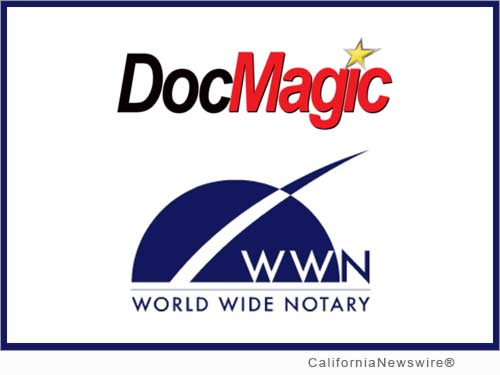 TORRANCE, Calif. /California Newswire/ — Torrance-based DocMagic, Inc., the premier provider of fully-compliant loan document preparation, compliance, eSign and eDelivery solutions, announced today that it formed an exclusive strategic alliance with World Wide Notary, Inc. (WWN), a pioneering developer of electronic notarization services. The partnership integrates WWN's patent pending DigaSign eNotary technology into DocMagic's eServices platform to deliver a fully paperless eClosing solution.
The solution allows borrowers, lenders, settlement agents and mobile notaries to eSign documents and eNotarize – both online and offline. As a result, the entire closing process is streamlined, paper is eliminated, costs are reduced and compliance is ensured.
"The addition of WWN's advanced eNotary capability adds significant value to our platform by keeping mortgage closing documents 100 percent paperless from eDisclosure to eClosing," said Dominic Iannitti, president and CEO of DocMagic. "DocMagic has systematically been putting the necessary pieces in place to transform the company into a true end-to-end eServices solutions provider. Our exclusive arrangement with WWN incorporates a critical component: compliant eNotarizations. Without compliant eNotary capability, a fully paperless eClosing would be impossible to achieve."
WWN is one of the most dominant eNotarization companies and has long been at the forefront of educating and lobbying the state Attorneys General and Secretaries of State to accept eNotaries in a variety of different industries. The company's technology has been certified by multiple Secretaries of State under the National Association of Secretaries of State (NASS) eNotary standards; and, in all states that have approved the Uniform Electronic Transactions Act (UETA).
A number of efficiencies accompany WWN's DigaSign eNotary technology that includes dramatically speeding up the notary process on mortgage documents, with Internet connection or without, ensuring strict compliance adherence is met, establishing detailed audit trails, reducing errors, slashing processing costs, reducing risk, and enhancing the overall borrower closing experience. The solution centralizes and streamlines the entire eNotarization process.
"DocMagic is the leading loan document preparation software company in the mortgage industry and an ideal partner to marry our technologies," said Bob Rice, CEO of WWN. "To date, most eClosings have just been hybrids, meaning: a majority of the lender documents could be eSigned, but those that require a notaries' signature and seal had to be printed to paper and ink signed. Together, our technologies eliminate that hard stop in the process and allow borrowers to effortlessly eSign mortgage documents, now including those that require the presence of a notary."
Under the agreement, DocMagic has exclusive rights to utilize WWN's eNotary platform within the mortgage industry for an extended period of time. The two companies have already begun introducing the service to clients.
About DocMagic:
DocMagic, Inc. is a leading provider of fully-compliant loan document preparation, compliance, eSign and eDelivery solutions for the mortgage industry. Founded in 1988 and headquartered in Torrance, Calif., DocMagic, Inc. develops software, mobile apps, processes and web-based systems for the production and delivery of compliant loan document packages.
The company's compliance experts and in-house legal staff constantly monitor legal and regulatory changes at both the federal and state levels to ensure accuracy. For more information on DocMagic, visit http://www.docmagic.com/ .
About World Wide Notary:
Based in Vernon, Texas and founded in 2003, World Wide Notary (WWN) has developed DigaSign, an innovative, simple, Internet-based service that expedites the signing and/or notarization of documents by utilizing electronic and digital signatures and electronic notarizations. WWN completed the first fully electronic, mortgage closing in California in 2008 and the first electronic real estate closing in Texas in 2004.
Pioneering electronic signatures, as early as 1996, WWN's management team has many years of experience working with stringent Federal mandates, such as HIPAA, E-SIGN and UETA regarding security and the use of electronic and digital signatures. Visit the company's website for more information http://www.wwnotary.com/ .
For questions or comments regarding the above news announcement, contact the company/organization(s) mentioned in the text, and not this website.
Copyright © 2015 CaliforniaNewswire® and Neotrope®. California Newswire is a publication of the Neotrope News Network and a U.S. reg. TM of Neotrope.