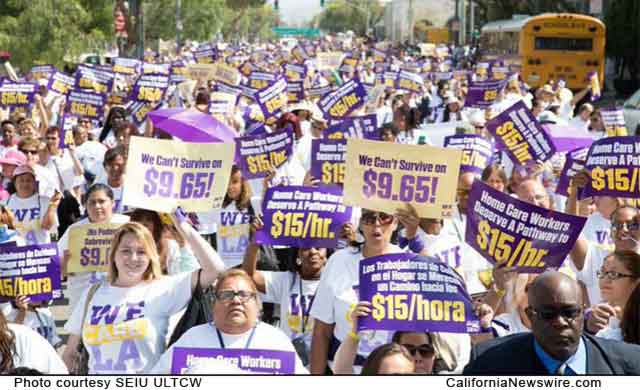 LOS ANGELES, Calif. /California Newswire/ — As L.A. County home care providers struggle to make ends meet, thousands of caregivers and supporters marched and rallied today in support of SEIU United Long Term Care Workers' (ULTCW) "We Care LA campaign," urging L.A. County Supervisors to take action to lift caregivers out of poverty by placing L.A. County In-Home Support Services (IHSS) providers on a pathway to $15 an hour.
(PHOTO CAPTION – ABOVE: L.A. County Home Care Workers and Supporters March from Plaza Olvera to Grand Park Demanding a Pathway to $15 an Hour.)
Currently earning just $9.65 an hour, L.A. County IHSS workers are in contract negotiations with county officials and are fighting for a pathway to $15 which will lift them out of poverty and allow them a life of dignity. While L.A. County IHSS workers provide in-home support for 160,000 low-income elderly residents and people with disabilities, the unfortunate truth is that 81% of LA IHSS workers live in poverty, 33% rely on public assistance, and 18% depend on CalFresh to feed their families, according to research.
"The work we do as caregivers is tough both emotionally and financially," said Regina Sutton, an L.A. County IHSS caregiver. "We provide quality care to maintain the lives of parents, grandparents and children with disabilities yet find it nearly impossible to make ends meet every month. We love the work we do, but we cannot survive on $9.65."
In January, the members of SEIU-ULTCW launched their L.A. County contract negotiation campaign known as We Care LA, highlighting the important work home care providers do and their fight for a life of dignity to provide for their families. Since its launch, the momentum of the "We Care LA campaign has steadily increased as thousands of petitions supporting the campaign have been signed.
"Unlike other workers in the City and County of Los Angeles that would benefit from a local minimum wage increase, the only way IHSS providers can gain a livable wage is if the County Board of Supervisors approve one byway of their contract," said Laphonza Butler, President of SEIU-ULTCW. "It is imperative that the vital work home care workers provide is recognized and appreciated, and that these workers are placed on a pathway to earning the $15 an hour they deserve. It's time to lift caregivers out of poverty and ensure that home care providers are able to afford the basic necessities they and their families need to survive."
SEIU United Long Term Care Workers (ULTCW) is California's leading long term care organization dedicated to providing and protecting quality care for some of our most vulnerable residents. SEIU ULTCW represents 180,000 in-home care providers, assisted living, and nursing home workers throughout California, making it the largest union of long term care givers in California and the second largest SEIU local in the nation.
www.ultcw.org | twitter: @ultcw