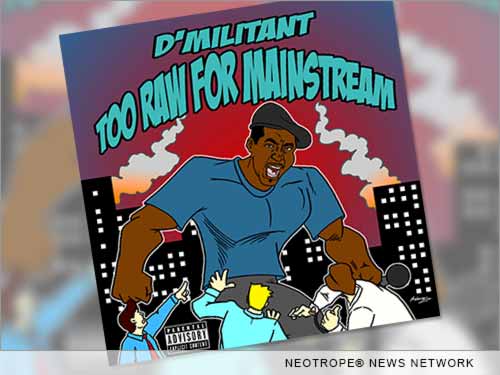 LOS ANGELES, Calif. /California Newswire/ — Uproar Entertainment is pleased to announce the release of Darryl Littleton's newest comedy CD, "Too Raw for Mainstream." For Darryl Littleton pka D'Militant, no subject is out of bounds, no topic too sensitive, no commentary too raw. With his crackling wit, Littleton holds nothing back, unflinchingly delivering slicing and incisive social and political commentary. "Too Raw for Mainstream" was recorded at The Ice House in Pasadena, Calif. and is Littleton's second recording for Uproar Entertainment.
Darryl Littleton pka D'Militant, is an accomplished comedy historian, publisher, author, columnist, stand-up comedian, radio personality, producer and actor. Having mentored and written for over 100 comedians, Littleton is a respected comedic veteran. He began his career writing sketches for "The Tom Joyner Morning Show" on CBS Radio. Shortly thereafter, he became a regular at the world famous Comedy Store and adopted the stage name, "D'Militant" for his bold, insightful and aggressive stand-up.
His talent landed him a job as D. L. Hughley's exclusive writer during Hughley's tenure as host of BET's "Comic View." Darryl was ultimately promoted to writer/producer for the "Comic View" where he penned material for Cedric the Entertainer, Sommore, and Don "DC" Curry. Littleton also traveled with Katt Williams as his writer and opener on the road at the height of Williams' fame and earned the distinction of being the first African-American appointed to the advisory board of the Comedy Hall of Fame.
Littleton's comedic talents extend to on-camera work, including features in the films, "All Lies on Me" (2007) and "Diamond Dawgs" (2009). He landed a guest starring role on Robert Townsend's WB sitcom, "The Parent Hood" and a recurring role on Townsend's variety show "Townsend Television" for Fox. Littleton also appeared on HBO's "Def Comedy Jam," Comedy Central's "Make Me Laugh," Martin Lawrence's "1st Amendment," Telemundo's "Loco Comedy Jam," "Comic's Unleashed," and ABC's "America's Funniest People," where he was the Grand Prize Winner. In 2002 he released his critically acclaimed comedy CD, "Am I Lying?!" and, in 2006, won the prestigious Bay Area Black Comedy Competition on its 20th Anniversary. Immediately following the release of his first book, "Black Comedians on Black Comedy", chronicling the history of African-American comedy, Littleton became a commentator for NPR.
This first published work gained critical acclaim, continues to be part of the curriculum at USC, is a fixture in libraries throughout the country, and was adapted by Robert Townsend as a full-length documentary entitled, "Why We Laugh," which made its premier at the Sundance Film Festival in 2009 and was broadcast on Showtime in 2010. Says D.L. Hughley: "This book is as funny as Littleton is…It makes me proud to be a comic." Littleton went on to publish 3 more books in 14 months: "Pimp Down: The Rise & Fall of Katt Williams" (2011), "Forefathers" (2012), the story of the American Revolution told from a black perspective, and "Comediennes: Laugh Be a Lady" (2012) which he co-wrote with his wife, comedienne Tuezdae Littleton.
Littleton has toured Europe and Asia as a stand-up comedian, performed for the U.S. military, toured the U.S. as a public speaker, and co-hosted the radio program, "Tuezdae's with D'Militant" (2013) with his wife. In 2014 Littleton launched his fifth book, "How to Be Funny: The Essential Comedy Handbook"; a tutorial on the art of laughter. That same year Littleton produced "Black & Blue: The Laff Records Collection", a compilation of the greatest party record routines from the genre's best artists: Redd Foxx, LaWanda Page, Slappy White, Marsha Warfield and many more. Littleton is showing no signs of slowing down, and his latest CD, "Too Raw for Mainstream" is set to further solidify his place in comedic history.
About Uproar Entertainment:
For the past 20 years, Uproar Entertainment has been recording and promoting today's most talented comedians. Under the helm of David Drozen, the man who discovered Richard Pryor in early 1970, signed him to his first recording contract, and produced 12 of his albums for the legendary comedy label Laff Records, Uproar nurtures, supports and develops the best comedic talents of our time.
With an unparalleled ear for undiscovered talent, Mr. Drozen is responsible for discovering many of today's comedy greats, producing their very first comedy albums and igniting their comedy careers. Under his leadership Uproar Entertainment is "makin' comedy happen!"
YouTube Video: https://youtu.be/hS8XQ5LVAPE.
Uproar Website: http://www.uproarcomedycd.com/.
Official Website: http://www.funnylit.com/.
Facebook: https://facebook.com/mr.dmilitant and https://facebook.com/darryl.littleton.7 .
Twitter: @D_Militant @UproarComedy
VIDEO:

For questions or comments regarding the above news announcement, contact the company/organization(s) mentioned in the text, and not this website.
Copyright © 2015 CaliforniaNewswire® and Neotrope®. California Newswire is a publication of the Neotrope News Network and a U.S. reg. TM of Neotrope.