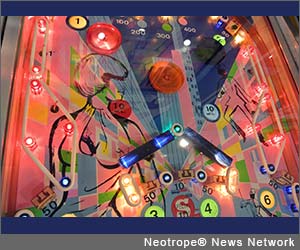 ALAMEDA, Calif. /California Newswire/ — The Pacific Pinball Museum (PPM) welcomes the public to experience pinball with a European flair. Play a game on the newest addition to their exciting collection of more than 80 playable games: a 1967 Rally West Club. This game marks the one resident of their collection not produced in the United States. Rally was a French pinball manufacturer designing games for the European market.
This unusual source for pinball results in West Club embodying European design sensibilities from the Mod era of the 1960s. In some ways the game is a full decade ahead of American pinball design. Solid State score displays and sounds capture a moment of French ingenuity in an otherwise American monopoly.
Lovingly restored by long-time pinball tech and operator and former Atari engineer, Dan Kramer, through West Club's patient restoration, Kramer has entered the realm of virtuoso technician. The PPM retains a collection of several hundred machines in a warehouse in Alameda.
While perusing the warehouse one day with PPM Executive Director, Michael Schiess, Kramer said, "Mike, give me a machine to work on for the museum. I'm looking for something really different, I want a real challenge."
Clearly, PPM must have something that could measure up to Kramer's long established skill repairing antique American pinball games with complicated wiring and logic and parts that are near impossible to find.
That's when Schiess brought Kramer past the West Club machine. The rare and valuable machine was a donation from Jim Dietrick of Pinball Revival Co., who'd been unable to restore the game due to the extreme rarity of Rally parts in America. The machine needed a lot of work and it had another huge strike against it: it was French. For Kramer, however, this didn't pose a problem, as he speaks fluent French and comes from a French family. Kramer had found his pet project.
Over a year's time, Kramer systematically tracked down individual parts for the machine as they miraculously appeared on French eBay and eventually brought this beautiful game back to full working condition. "That game is the most transcendental pinball experience I've had in years," said PPM board member Jem Gruber. "Out of some 400 games at our pinball expo, this game from 45 years ago really caught my eye!"
Candy colored lights and a strong pastel color-scheme make West Club an amazing feast for the eyes. From a technical standpoint, West Club marches to a different drummer. The game boasts DC coil power and grounded legs and chassis along with Nixie electronic tube scoring displays, solid state sound, frictionless electromechanical bumpers and kickers, upper playfield kicking mechs, relay bank security braces and fold away tubular metal legs and rubber cushioned feet — all of which predate any kind of similar feature on American pinball games. Top that off with the lit colored translucent posts covering the playfield, and West Club carves out a unique place for itself in the Pacific Pinball Museum collection.
"Having West Club displayed prominently at the front of our museum gives our staff a chance to use it as a teaching tool," said PPM curator Melissa Harmon. "The game so clearly presents the essential aspects of our mission: art, history and science. The game helps position American and European art styles and technology in a particular moment of history."
The public loves playing West Club. "Sometimes that game gets more attention than the newer ones in back," said PPM front-man John Briggs. Hit 1 thru 6 in sequence to unlock the highest scoring modes. Hit the die, the knife, the hand, then the lips, the cards and the police. Top 4500 points for your first replay. By then you'll be hooked.
The Pacific Pinball Museum is a 501(c)3 non-profit dedicated to teaching art, science and history through pinball and preserving this important part of American culture.
More information: http://Pacificpinball.org/ .
Copyright © 2012 CaliforniaNewswire® and Neotrope®. California Newswire is a publication of the Neotrope News Network and a U.S. reg. TM of Neotrope.