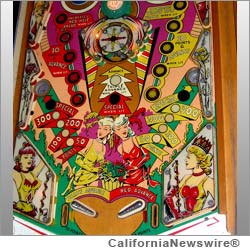 ALAMEDA, Calif. /California Newswire/ — The Pacific Pinball Museum (PPM) proudly announces the addition of more than 100 rare items to their massive collection through a donation made by business entrepreneur and renowned philanthropist Richard Foos.
The donated items, which include pinball machines, jukeboxes, vintage soda machines and much more, are worth an estimated $85,000 in total value making it one of the largest donations PPM has received, according to Michael Schiess, museum founder and co-director. "Richard Foos's generous donation is extremely important for us as it fills a gap in our collection with some very rare William's wood rails like Country Club, 4 Roses and 3D," said Schiess.
PPM is excited about the donation because it allows them to further their goal of keeping the history and culture of pinball in the public's eye. "What our museum is trying to do is make these items available to the public and encourage other people to do the same," said Schiess. "Too many times items are getting bought and held by a single owner without the public getting a chance to appreciate the machines. This is an important donation in keeping the American heritage of pinball public."
More than half of the items donated to PPM are pinball machines. These machines include: Apollo, Be Bop, 4 Horsemen, Blue Skies, Daisy May, Harbor Lites, Lovely Lucy, Magic Clock and San Francisco. "We're going to restore some of the items and hopefully have them on display in time for our Pacific Pinball Exposition 6 in September," said Schiess.
Foos, a Los Angeles native, co-founded Rhino Records, a record label that sold greatest hits collections of previously released recordings, in 1973. The company was later sold to Time Warner. Foos, a limitless philanthropist has always made it a point to donate his time, wealth and possessions to better the community. At Rhino, Foos gave employees paid time off to perform community service, encouraged employees to mentor disadvantaged youth and at one point donated two percent of Rhino's pretax profits to combat AIDS, homelessness and other problems. From 1991 to 2001, the company gave an estimated $2 million to various community-based charities. In the years since, Foos has donated a substantial amount to charities that address poverty and education issues. Today, Foos sits on the board of Rock the Classroom, which offers music programs in Los Angeles inner-city elementary schools.
Pacific Pinball Museum, 1510 Webster St., Alameda, CA.
Learn more about PPM at: http://www.pacificpinball.org .
Copyright © 2012 CaliforniaNewswire® and Neotrope®. California Newswire is a publication of the Neotrope News Network and a U.S. reg. TM of Neotrope.