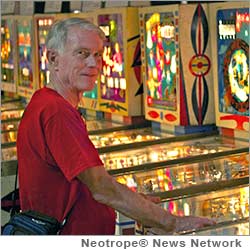 SAN FRANCISCO, Calif. /California Newswire/ — The Pacific Pinball Museum (PPM) and Novato's Pinball Revival Company announce The Sixth Annual Pacific Pinball Exposition (PPE) to be held at the Marin County Civic Center Exhibition Hall in San Rafael, Calif., September 21-23, 2012.
Known internationally as the world's largest pinball exhibition, the PPE attracts thousands of visitors over the three-day weekend. This event is the primary fundraiser for the PPM, the world's premier non-profit pinball museum.
Who: The Pacific Pinball Museum.
What: The Pacific Pinball Exposition, museum fundraiser, world's largest pinball show.
Where: 10 Avenue of the Flags, San Rafael, California, 94903.
When: September 21-23, 2012: Friday and Saturday 10 a.m.-Midnight, Sunday 10 a.m. – 6 p.m.
"Private collectors have come together at PPE to create a unique view of Pinball History, from the rudimentary Bagatelle games to the just-released, cutting-edge game, Wizard of Oz," according to PPM Board Member Ron Chan. "The show emphasizes all of pinball, from vintage machines, collections of rare games, and a large variety of modern pinball machines all ready to play without having to insert coins."
The PPE features seminars from industry leaders, historians, scientists, engineers and hobbyists including special guests: George Gomez, Tim Arnold, Clay Harrell, Jersey Jack and Gary Stern. Industry reps and parts vendors will be on hand to sell their products to collectors. The annual PPE tournament attracts the highest-ranked players in the world, and has divisions for novices and children. PPE features pinball movies, tours of the exposition, awards, a raffle, and other surprises.
PPM Board Chairman Larry Zartarian said, "Our mission statement is to inspire an interest in science, art and history through pinball and to preserve and promote this important part of American culture."
This year, the theme is Science and Pinball as the family-friendly expo highlights the science of pinball. To bring scientific concepts to life, PPM pinballogists have created a number of exhibits for PPE that display the inner workings of pinball science. Exhibits include: Jem Gruber's exploration of the predictability of pinball's "seeming randomness," Melissa Harmon's experiment into momentum; and, of course, Mike Schiess and Wade Krause's "Visible Pins," three different award-winning machines built in clear-plastic bodies that show off their inner workings.
The Visible Pin took more than a year from inception to creation and allows students to see what's happening inside the game as someone plays it. Since its release, the Visible Pin has won Blue Ribbon awards at the 2009 Maker Faire and featured at the Bedford Gallery's Illuminated Sculptures exhibition. The San Francisco Exploratorium, which recently purchased its own Visible Pinball exhibit from PPM, has provided a number of related science exhibits to PPE 2012 as well.
The PPM's art department will receive $16,000 in donations this year to continue the mural painting program begun at the first PPE. From the first mural displayed in 2007, the museum's collection of hand-painted pinball murals has exploded to more than two dozen masterpieces. New at the PPE this year are d'Arci Bruno's "Slick Chick," Ed Cassel's "Domino," Dan Fontes' "Golden Gate," and Eric J. Kos's "Jungle Princess" and 20 more amazing backglass murals will all be on display at PPE6.
Sponsored by Autodesk, Chabot Space & Science Center, the Exploratorium, the PPE offers a 1-Day Pass: Kids $15, Adults $30 or a 3-Day Pass: Kids $30, Adults $60. All proceeds benefit the Pacific Pinball Museum, Alameda, Calif. – a 501(c)3 Non-Profit.
For more information, visit: http://www.pacificpinball.org/ .
Alameda, California is a sophisticated Bay Area island community with a small town vibe known for tree-lined streets and Victorian charm, low crime, a clean/green focus, natural beauty, abundant recreational opportunities, an excellent quality of life and high standard of living. In addition to its unusual status as an island city in the San Francisco Bay, Alameda is a residential community known for historic preservation, unique attractions highlighted by the USS Hornet Museum and historic Alameda Theatre, the Alameda Free Library, and the Pacific Pinball Museum.
Copyright © 2012 CaliforniaNewswire® and Neotrope®. California Newswire is a publication of the Neotrope News Network and a U.S. reg. TM of Neotrope.