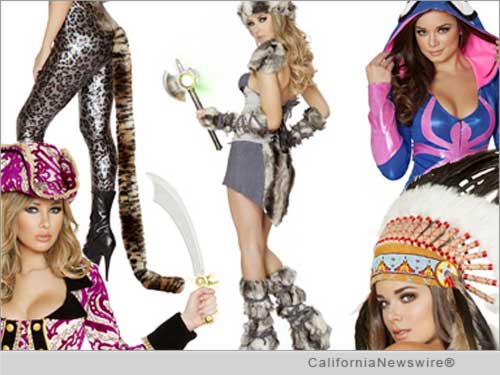 LOS ANGELES, Calif. /California Newswire/ — Sexy Halloween costume retailer, Envy Corner, today announced the "top five Halloween costumes" that were voted to be the best costumes for women this year. Fans of Envy Corner's Facebook page picked the top five Halloween costumes, to create the ultimate "complete costume."
Here are the "5 best costumes" for 2014, in order:
Four-Piece Seductive Pirate Captain Costume: Includes a pirate hat and boots. The outfit includes a pink bolero coat with a front busk closure and gold button detail, along with a white ruffled skirt, removable top skirt and a sword. It is seductive without being too revealing.
One Piece Cherokee Princess Costume: It features an elegant "off the shoulder" dress, a separate Native American Costume headdress, and fur legwarmers. The faux fur detailing looks authentic and adds style to the outfit.
Snow Viking Warrior Costume is the top third Halloween Costume. It can be worn no matter what the weather is like; not just in snow. It includes a stud and faux fur Viking helmet with two white horns. The tieback top features faux fur shoulders and the corset laces up at the sides. The costume also features faux fur arm and leg warmers.
Silver Leopard Cat Suit Costume, which is a one-piece, form-fitting garment that looks like a sexy cat. It highlights the wearer's figure and zips up the front. The material is shiny, metallic, and a furry hood is attached along with ears and a fur leopard tail.
Sexy Red Spider Costume for women. The costume is a form-fitting, one-piece jumpsuit with spider web print and a cut out bust. It comes with thigh high leggings and web garters.
Envy Corner is an online shop for people to purchase sexy clothing, lingerie, costumes and swimwear. There are options from the world's top fashion designers. Selections are constantly kept up-to-date and items are reasonably priced. According to Envy Corner, "Our primary goal at Envy Corner is reliability and responsiveness. We pride ourselves on providing the ultimate customer service and strive to be the best in the business. Thus, our customers can rely on us to deliver the outfits that will amp up their glamour!"
For more information, visit http://www.envycorner.com/ .
YouTube Channel: https://www.youtube.com/channel/UCAMRm1hCUms_V1m2MsLa9Cg .
Copyright © 2014 CaliforniaNewswire® and Neotrope®. California Newswire is a publication of the Neotrope News Network and a U.S. reg. TM of Neotrope.