TEHACHAPI, Calif. — The Tehachapi Hospital Foundation, an IRS 501(c)(3) organization, is actively seeking funds to build a new hospital in a region between Lancaster and Bakersfield, CA – Tehachapi. The present Tehachapi Hospital is unable to meet state-mandated earthquake safety requirements; the existing structure cannot be retrofitted.
Currently, the nearest hospital is 50 miles away, so The Tehachapi Hospital Foundation is actively generating public awareness that a new hospital must be started by January, 2008.
"If the hospital in Tehachapi closes, and its license to operate as a rural critical access hospital lapses," Don Daniels, PA-C, Chairperson of the Tehachapi Hospital Foundation, explained, "obtaining a new license will be difficult and time consuming."
The Foundation incorporated in 2001 as a nonprofit California Public Benefit Corporation, its objectives being to help fund construction of a new hospital and long-term care facility and to meet the needs of the Tehachapi Valley Healthcare District. Engaging in fundraising activities and solicitations will help to accomplish these goals.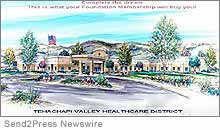 In a 2004 election, voters overwhelmingly passed (approximately 80 percent) a bond issue to improve the quality of local healthcare services; to expand and upgrade emergency room, x-ray, diagnostic imaging and mammogram facilities and services; to improve laboratory facilities; and to modernize hospital acute care facilities.
Jim Richards of Hi Tech Medical, Inc., is the first corporate donor, and also the Chairperson of the Corporate Fundraising Committee. He explains that the Foundation incorporated as a nonprofit to permit fundraising with potential tax benefits to donors.
The Foundation has 15 people on its Board of Directors; the membership is 500 strong and rapidly growing.
"Our mission should appeal to all citizens and businesses in the Tehachapi Valley Healthcare District," Richards said.
Without rapid accumulation of funds to construct a new Tehachapi Hospital and related facilities quickly, the area will probably be without a rural critical access facility for emergency and scheduled healthcare.
The deadline for hospital completion is January, 2013, but fundraising activities must be completed years in advance.
For more information, visit: http://www.thfinc.org.
[tags]Tehachapi Hospital Foundation, California nonprofit, build a new hospital[/tags]