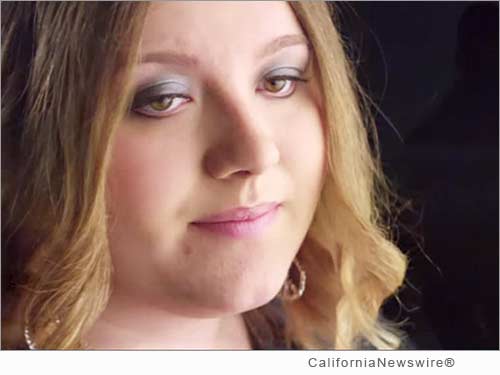 LOS ANGELES, Calif. /California Newswire/ — When 18-year-old Autumn Sky Wolfe was diagnosed with autism, the last thing on anyone's mind was a singing career. Yet she now has an EP on iTunes and has been nominated by New Music Weekly magazine as Best New Adult Contemporary Artist as well as Crossover Artist of the Year.
"It's incredibly exciting to be included in the New Music Weekly Awards," Wolfe states, "and especially considering I'm up against artists like Sam Smith and my very favorite artist, Meghan Trainor."
The young girl is taking the attention in stride, just as she does when performing. Her poise and steadfastness in the face of intense distraction are qualities much admired by her manager, Meredith Day: "This beautiful girl just doesn't seem to even know the meaning of the term 'stage fright'," Day notes. "In my thirty years of working with artists I've never seen someone as unaffected by commotion or diversions of any kind. Not only has she never missed a show, she has performed under scenarios that would make the average singer run in terror. She's amazing," Day adds.
ABOUT THE ARTIST:
The 18-year-old Autumn Sky Wolfe is an inspiring example of the way some people are able to cope with autism. Diagnosed with Autism Spectrum Disorder in 1998 at two years old, there was a long list of things her parents were told she couldn't do. But Autumn has transcended all expectations. People meeting her are often unaware of her autism and just think she is shy. She displays a singular passion to perform. "In addition to her ability to read music, she has a remarkable memory for melody and lyrics and can modify a musical pattern on a nearly instantaneous basis, making her a dream for her music director," Day notes. More: www.autumnskywolfe.com .
ABOUT STARMAKER MACHINERY:
Meredith Day founded Starmaker Machinery in 1985 with a mission to help artists who reminded her of herself as a teenage "wanna-be" folksinger. Over the years her projects have included many significant artists, including Jennifer Love Hewitt, Dave Navarro, No Authority, and Shia LaBeouf.
FOR MORE INFORMATION:
Autumn Sky Wolfe is on Twitter and Facebook and her music is on iTunes and CDBaby. Information about the New Music Weekly nominations is available at: http://newmusicweekly.com/ and information about Starmaker Machinery will be found at: http://www.starmakermachinery.com/ .
Twitter: @AutumnSkyWolfe
VIDEO:

For questions or comments regarding the above news announcement, contact the company/organization(s) mentioned in the text, and not this website.
Copyright © 2015 CaliforniaNewswire® and Neotrope®. California Newswire is a publication of the Neotrope News Network and a U.S. reg. TM of Neotrope.