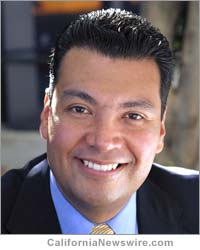 SACRAMENTO, Calif. /California Newswire/ — Calif. Senator Alex Padilla (D-Pacoima) was recognized this week by TechAmerica, as the "California Legislator of the Year" for 2012. TechAmerica is the top bipartisan political network whose members represent some of the world's leading technology companies including Google, Cisco, Facebook, Intel, Oracle, eBay and Microsoft.
Senator Padilla was chosen as the California Legislator of the year for 2012 for authoring legislation that promotes California's leadership in innovation and technology.
"I am honored to receive this award from TechAmerica," said Senator Padilla. "California is home to the Internet economy, which has transformed our world and provided tremendous benefits and choices for consumers. I remain committed to championing policies that foster research, development and investment in technological innovation and to ensuring that California remains a leader for many years to come," said Senator Alex Padilla.
"Senator Padilla works tirelessly to promote California's premier industry and took deliberative efforts in 2012 to help ensure that technology continues to flourish in our state," said Robert Callahan, TechAmerica's Director of State Government Affairs for California. "His recognition of the critical role that the technology industry plays in driving California's economic engine has made him a natural leader in the Legislature on technology issues, where he has consistently supported policies that help maintain the strength of California's most innovative industry."
As Chair of the Senate Energy, Utilities and Communications Committee, Senator Padilla has taken the lead to make certain that California remains at the forefront of innovation and technology by successfully authoring legislation that:
· Established the California Broadband Council and the California Advanced Services Fund in order to eliminate the "digital divide" by expanding broadband accessibility, literacy, adoption, and usage to every corner of the state;
· Expanded access to the Teleconnect Fund and established the California Virtual Campus;
· Ensured that Voice over IP services are regulated by the PUC and other agencies, as directed by the Legislature;
· Established standards for autonomous self-driving vehicles;
· Created a framework to strengthen the Smart Grid in California;
· Helped clean energy and advanced manufacturing companies expand in California by reducing sales tax on equipment used for manufacturing.
The award was given to Senator Padilla to recognize his outstanding contributions to California's technology industry during the 2012 legislative year and his consistent efforts that help keep California the worldwide center of technological innovation. TechAmerica began recognizing state legislators for their contributions to the success of high-technology in 1991.
According to TechAmerica's 2011 Cyberstates report, California continued to rank as the nation's leading Cyberstate. California ranks first in both high-tech employment and high-tech wages, employing more than 900,000 workers at an average wage of over $110,000. TechAmerica is the leading voice for the technology industry – the driving force behind productivity, growth and job creation in the United States and the foundation of the global innovation economy.