BOULDER, Colo., June 18, 2018 (SEND2PRESS NEWSWIRE) -- TeamSnap, the household name in sports-tech management, announced today the expansion of its industry-leading platform with the introduction of TeamSnap Officials - an innovative new online platform to schedule, manage and communicate with referees, umpires and officials.
LOS ANGELES, Calif. and DUBUQUE, Iowa, April 24, 2018 (SEND2PRESS NEWSWIRE) -- High and Outside, LLC announces "High & Outside : a baseball noir" film is the Closing film at the Julien International Film Festival in Dubuque, Iowa where "Field Of Dreams" was filmed. Moviemaker magazine named it "One of the 25 coolest film festivals in the World."
RALEIGH, N.C., March 7, 2018 (SEND2PRESS NEWSWIRE) -- Capital Chevrolet is partnering with The Salvation Army in Raleigh. Capital Chevrolet has joined forces with the national Chevrolet Youth Baseball program to provide new equipment, invitations to FREE instructional clinics, and an opportunity for community members to earn donations for their league via a Test Drive fundraiser.
LOS ANGELES, Calif. /California Newswire/ -- Standard 17, LLC announces "High & Outside : a baseball noir," also nominated for Best Screenplay & Best Film at the prestigious 2017 Raindance Film Festival in London. The film premieres Oct. 27 & Nov. 1, 2017 at the Austin Film Festival. "High & Outside" is about an independent league baseball player, Phil Harding (Phil Donlon), who takes desperate measures to keep his imperiled big-league dream alive, which threatens to destroy his already fragile family.
DALLAS, Texas, July 13, 2017 (SEND2PRESS NEWSWIRE) -- Supreme Lending, a nationwide mortgage lender, has announced that it is partnering with baseball Hall of Famer, Major League Baseball All-Star and former Texas Ranger Ivan "Pudge" Rodriguez, who will serve as the company's ambassador during the American Century Championship Golf Tournament, July 11-16, 2017 at Edgewood Tahoe Golf Course in South Lake Tahoe, Nevada.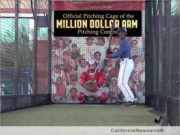 BAKERSFIELD, Calif. /California Newswire/ -- California-based Mojo Sports, makers of interactive sports and entertainment equipment, announced today that their flagship product, the Mojo Pitching Cage(TM), is the 'Official Pitching Cage of The Million Dollar Arm Pitching Contest' featured in the movie 'The Million Dollar Arm.'