Home
Tags
Aerospace and Aviation
Tag: Aerospace and Aviation News
TRAVERSE City, Mich., Feb. 18, 2020 (SEND2PRESS NEWSWIRE) -- With a strong emphasis being placed on remote visual inspections (RVI) and nondestructive testing (NDT) throughout many industries, ViewTech Borescopes has started the year with a record number of sales and looks to continue the trend with another year-over-year sales increase.
SAN CLEMENTE, Calif. /California Newswire/ -- Casa Romantica Cultural Center and Gardens, an award-winning southern California 501(c)(3) nonprofit, celebrated the opening of its new exhibit on display at John Wayne Airport on Saturday, February 8.
SUGARLAND, Texas, Dec. 3, 2019 (SEND2PRESS NEWSWIRE) -- UniverseIT is excited to announce a new partnership with the United States Air Force (USAF) which encompasses serving three training schools - the Air Ground Operations School (AGOS); Weapons School (USAFWS); and Advanced Maintenance and Munitions Operations School (AMMOS).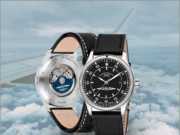 ST. PETERSBURG, Fla., Sept. 27, 2019 (SEND2PRESS NEWSWIRE) -- Duber Time Group, the U.S. Distributor for Muhle-Glashutte is honored to announce the partnership between the largest aviation association in the world, AOPA with Muhle-Glashutte in the release of a limited-edition watch to celebrate 80 years of AOPA, the AOPA AeroSport.
ST. PETERSBURG, Fla., Sept. 19, 2019 (SEND2PRESS NEWSWIRE) -- A sleek and powerful pilots watch, designed by pilots. The team at AOPA (The Aircraft Owners and Pilots Association, the world's largest association for aviation enthusiast and pilots) designed this watch with Muhle Glashutte the legendary watch manufacturer. This limited edition of 500 pieces is to be released in celebration of the 80th anniversary of AOPA.
ORLANDO, Fla., July 9, 2019 (SEND2PRESS NEWSWIRE) -- Unmanned Safety Institute (USI) announced today that they will be establishing the first-in-the-nation Unmanned Safety Institute - Center of Excellence, a remote pilot training and safety certification center, at Gulf Coast State College (GCSC) in Port St. Joe, Florida.
PONTE VEDRA, Fla., April 30, 2019 (SEND2PRESS NEWSWIRE) -- Military-Fasteners, Inc. (Milfas), a company based out of Ponte Vedra that distributes aerospace and mil-spec hardware received the AS9120 Rev B certification from the Society of Automotive Engineers (SAE). The AS9120 Rev B certification is also known as. "Quality Management Systems - Requirements for Aviation, Space and Defense Distributors."
DAYTON, Ohio, April 9, 2019 (SEND2PRESS NEWSWIRE) -- Collaborative Agile Solutions LLC (CAS) has teamed with Sumaria Systems Inc. to provide the Air Force Life Cycle Management Center (AFLCMC) Medium Altitude Unmanned Aircraft Systems (MAUAS) Division with Enterprise Agile Project Management Strategy Support.
SAN JOSE, Calif. /California Newswire/ -- NEXT Future Transportation Inc. ("NEXT"), a leading robotic vehicle company has introduced its Smart Airport Solutions in response to calls for greater convenience, as well as improved operational efficiency and profitability for the industry.
CINCINNATI, Ohio, Sept. 4, 2018 (SEND2PRESS NEWSWIRE) -- Unmanned Safety Institute (USI), the world-leader in remote pilot training and certification, announced today that their Small UAS Safety Certification has been certified by the University of California (UC) A-G program. UC A-G approval will enable high school students to use USI's four-course curriculum to meet admissions requirements to any state education institute.
NEW YORK, N.Y., May 19, 2017 (SEND2PRESS NEWSWIRE) -- Retired pro football player Leland Melvin thought his road to the NFL was an incredible journey - until he climbed aboard the shuttle Atlantis and traveled to outer space. Twice. Melvin, a former wide receiver for the Detroit Lions, engineer and astronaut, shares his real-life experiences, triumphs and challenges in an inspirational memoir. The book: "CHASING SPACE: AN ASTRONAUT'S STORY OF GRIT, GRACE, AND SECOND CHANCES" (ISBN: 978-0062496720; Amistad Hardcover Original).
POMPANO BEACH, Fla., Feb. 13, 2017 (SEND2PRESS NEWSWIRE) -- Investing in the most advanced technology is essential to Current Builders' mission. The general contractor is introducing the latest drones and virtual reality applications to enhance safety protocols on their South Florida construction projects; and are in the R&D phase of using the technology to resolve issues in the field, an application that will save time and money.
LAS VEGAS, Nev., Aug. 29, 2016 (SEND2PRESS NEWSWIRE) -- When you think private jets, you probably think of a huge company, with tons of employees, corporate buildings, fancy cars, luxury lifestyle, and a loss of touch with the common man. It may surprise you to know, that NV JETS is the smallest operator in Nevada, with less than 10 employees, and still outdoing the competition.