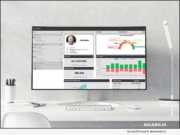 MIAMI, Fla., Oct. 3, 2019 (SEND2PRESS NEWSWIRE) -- South Florida-based AI Fintech company Aclaro, whose mission is to deliver data transparency and personalized insights to its auto lending clients, has developed an innovative, technologically advanced method of increasing borrower retention rates. Instead of sending out thousands of low balance letters with the hope that customers will open these letters and follow up with the lender, Aclaro has made the process much simpler and easier.
CHICAGO, Ill., Sept. 10, 2019 (SEND2PRESS NEWSWIRE) -- Aclaro Inc., the game-changing Artificial Intelligence software company that provides disruptive technologies to the automotive, financial, and government sectors, announces a new Board Member and the release of Aclaro EcoSystem 3.0 (ES 3.0). With these announcements, Aclaro continues rapid advancement toward its overarching mission of helping lenders, dealers and consumers develop and nurture longer mutually beneficial relationships.
SAN FRANISCO, Calif. /California Newswire/ -- Aclaro, the leading provider and developer of Artificial Intelligence and Blockchain-based technology solutions, announces the launch of their newest Fintech App in conjunction with the opening of a new office in San Francisco, California.