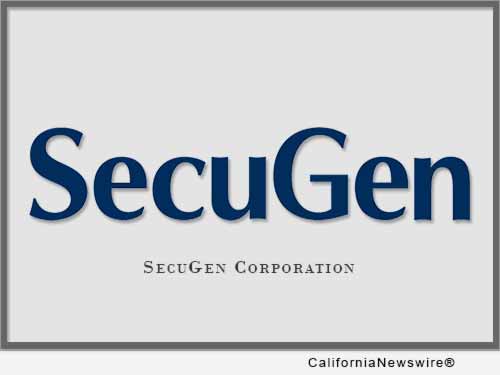 SANTA CLARA, Calif. /California Newswire/ — SecuGen Corp., a world leading optical fingerprint device and technology vendor, is pleased to announce that it will be showcasing the UN20 Serial™, a stand-alone high performance, low cost, optical fingerprint sensor at CES 2016 from January 6-9. Developers are invited to come by SecuGen's booth, number 21733 in the South Hall of the Las Vegas Convention Center to see a demonstration of this revolutionary new OEM fingerprint sensor. The UN20 Serial will be released in Q1 2016.
The UN20 Serial OEM sensor integrates SecuGen's FAP 20 certified, optical fingerprint sensor with a 1 GHz CPU and SecuGen's library of NIST certified template extraction and matching algorithms. In addition, the UN20 Serial provides an open Linux development environment so developers can add their own functionality.
The UN20 Serial offers high quality image capture, NIST tested algorithms, a fast 1 GHz processor, and a highly flexible architecture, altogether priced at an amazingly low price. This is the first product to be released in the Unity Biometric Development Platform (BDP) product family.
Other products in the Unity BDP family will be announced over the next few months. These other products will include additional interfaces, such as USB, as well as hardware expansion boards that allow virtually limitless expandability.
Jeff Brown, VP of Sales and Marketing for SecuGen stated, "We looked at the old model of a sensor and a separate board running the extraction and matching algorithms, and we have been able to unite all the parts and package them in one small sensor. Embedding an open Linux development environment in the UN20 Serial makes this product unique in the industry. Pairing this with an astonishingly low price is a major breakthrough."
"The SecuGen engineering team has come up with a new approach to delivering world class OEM sensors," commented VP of Engineering Dan Riley. "The UN20 Serial is not just a sensor, it is an entire development platform. The uses for this product are nearly limitless. It represents a giant leap forward in OEM fingerprint technology."
Won Lee, CEO of SecuGen, added, "For many years we have focused exclusively on delivering to our OEM partners the tools they need to compete successfully in this highly competitive industry. The UN20 Serial is the first of an amazing new product line, the Unity Biometric Development Platform (BDP). Unity BDP is the culmination of a decade of effort. We are very proud to be able to deliver the first product of its kind, a complete biometric development platform that is compact and affordable."
About SecuGen:
SecuGen Corporation ( http://www.secugen.com/ ) is the world's leading provider of advanced, optical fingerprint recognition technology, products, tools and platforms for physical and information security. SecuGen designs and develops FBI-certified fingerprint readers and OEM components, developer kits and software, including NIST/MINEX-compliant algorithms.
Known for high quality, ruggedness, and performance in a wide variety of applications and environmental conditions, SecuGen products are used by world-leading financial, medical, government, educational and corporate institutions and are sold through an extensive partner network of reseller partners including original equipment manufacturers, independent software vendors and system integrators around the world.
SecuGen is a registered trademark of SecuGen Corp. in the United States and other countries.
For questions or comments regarding the above news announcement, contact the company/organization(s) mentioned in the text, and not this website.
Copyright © 2016 CaliforniaNewswire® and Neotrope®. California Newswire is a publication of the Neotrope News Network and a U.S. reg. TM of Neotrope.