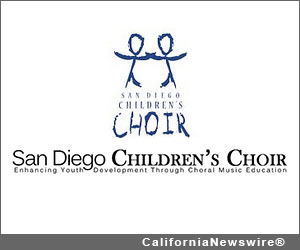 SAN DIEGO, Calif. /California Newswire/ — The San Diego Children's Choir (SDCC) today announced that it has been honored with a prestigious 2012 Top-Rated Award by GreatNonprofits, the leading provider of user reviews about nonprofit organizations. "We are excited to be named a Top-Rated 2012 Nonprofit," says Donna Icenhower, executive director, San Diego Children's Choir. "We are proud of our accomplishments this year, including our SDCC Neighborhood Choir program expansion, new rehearsal site location in Lake Murray and spectacular holiday performances. "
The Top-Rated Nonprofit award was based on the large number of positive reviews that San Diego Children's Choir received – reviews written by volunteers, donors and clients. People posted their personal experience with the nonprofit. For example, one person wrote, "It was the most rewarding experience to watch the children grow in their confidence and maturity as they developed their voices and ability to perform for the community."
Being on the Top-Rated List comes at an important time of the year, as donors look for causes to support during the holiday season.
"We are gratified by San Diego Children's Choir for its work," said Perla Ni, CEO of GreatNonprofits, "They deserve to be discovered by more donors and volunteers who are looking for a great nonprofit to support."
Being on the Top-Rated list gives donors and volunteers more confidence that this is a credible organization. The reviews by volunteers, clients and other donors show the on-the-ground results of this nonprofit. This award is a form of recognition by the community.
About San Diego Children's Choir:
Since 1990, the San Diego Children's Choir has been committed to providing the highest quality choral music education and active performance experience. While fostering an awareness of cultural diversity, the Choir inspires personal growth and a lifelong love of music for more than 300 of San Diego's youth, ages 4 – 18. For more information, see www.sdcchoir.org.
About GreatNonprofits:
GreatNonprofits is the leading site for donors and volunteers to find reviews and ratings of nonprofits. Its mission is to inspire and inform donors and volunteers, enable nonprofits to show their impact, and promote greater feedback and transparency. INFO: www.greatnonprofits.org