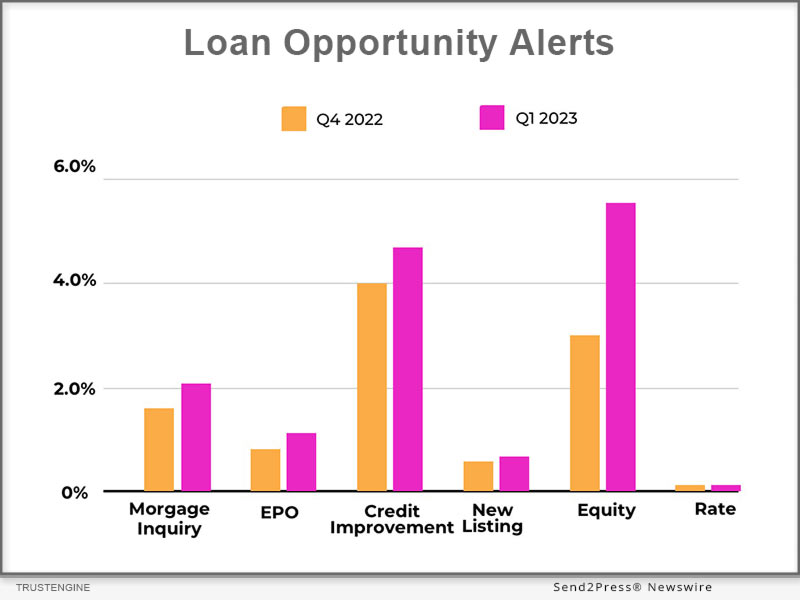 OWINGS MILLS, Md., Apr 20, 2023 (SEND2PRESS NEWSWIRE) — TrustEngine(TM), a provider of data-driven homebuyer engagement and education solutions for lenders, today announced the release of Sales Boomerang's latest Mortgage Market Opportunities Report. The Q1 2023 report indicates quarter-over-quarter improvements across all indicators of mortgage readiness, representing growth in mortgage lending opportunities.
Methodology
The Mortgage Market Opportunities Report draws on Sales Boomerang system data to identify market opportunities of relevance to today's borrowers and lenders. To generate the report, Sales Boomerang reviewed data from more than 150 residential mortgage lenders, a subset of its clients, that use its borrower intelligence and retention tools to monitor millions of customer and prospect records. Sales Boomerang then calculated and compared the aggregate frequency with which those contact records triggered loan-opportunity, prescriptive-scenario and risk-and-retention alerts during the fourth quarter of 2022 and the first quarter of 2023.
Key Findings**
Sales Boomerang's loan-opportunity alerts identify the contacts inside a lender's database who are actively shopping for a mortgage loan or who may be able to benefit from a new mortgage loan. Across the sample group, the frequency of each alert type in Q1 2023 was as follows:
* Mortgage Inquiry Alert: 2.10% of monitored contacts (up 32.91% from Q4)
A customer or prospect has shopped with a competitor in the last 24 hours.
* EPO Alert: 1.07% of monitored contacts (up 32.01% from Q4)
A customer or prospect whose loan closed ≤ 6 months ago has shopped with a competitor in the last 24 hours.
* Credit Improvement Alert: 4.73% of monitored contacts (up 18.25% from Q4)
A customer or prospect has improved their FICO score.
* New Listing Alert: 0.61% of monitored contacts (up 17.31% from Q4)
A customer or prospect has listed their home for sale.
* Equity Alert: 5.62% of monitored contacts (up 86.71% from Q4)
A customer or prospect's home equity has increased.
* Rate Alert: 0.10% of monitored contacts (up 92.00% from Q4)
The interest rate of a customer or prospect's existing mortgage is significantly higher than current prevailing rates.
Sales Boomerang's prescriptive-scenario alerts analyze not only whether a consumer could benefit from a given loan type, but also whether the consumer is credit-qualified to apply for financing. The frequency of each alert during Q1 2023 was as follows:
* Cash-Out Alert: 2.77% of monitored contacts (up 33.82% from Q4)
A borrower is credit qualified and has built sufficient equity to tap into the cash in their home.
* Rate-and-Term Alert: 0.11% of monitored contacts (up 120.00% from Q4)
A borrower is credit qualified and can benefit from the current interest rates for a refinance.
* FHA MI Removal Alert: 2.49% of monitored contacts (up 20.29% from Q4)
An FHA borrower has exceeded 20% equity and can remove mortgage insurance (MI).
For a subset of lenders that maintain servicing portfolios, the frequency of risk-and-retention alerts was as follows:
* Risk & Retention Alert: 36.84% of monitored contacts (down 15.23% from Q4)
A customer is engaging in one or more of 15 credit activities that may put their serviced loan at risk.
Analysis**
* Alerts went up across the board, indicating increased quarter-over-quarter loan opportunities with consumers who are actively engaged in the mortgage market as well as with consumers who may not yet realize they've recently become eligible for a mortgage based on available interest rates or improvements to their equity or credit positions.
* Risk and Retention Alerts trended down for the first time since Q2 of last year as the pace of month-over-month credit card debt growth eased slightly in February. However, with per-household consumer debt at an all-time high, there are still plenty of borrowers who could benefit from refinancing to pay off high-interest debts and improve monthly cash flow – a strategy that also benefits lenders by improving the overall health of servicing portfolios..
* For the first time in months, rate-related opportunities saw significant quarter-over-quarter improvement, reflecting a nearly 1% drop in the average 30-year fixed mortgage rate from its 20-year high of 7.08% in November 2022 to its Q1 2023 low of 6.09% in February. This is the first time the frequency of Rate alerts has increased since Q2 2021 and the first improvement for Rate-and-Term Alerts since Q4 2021.
* Equity Alerts, which indicate a borrower's property value has increased, rose substantially over the previous quarter, though they were triggered on a small share of contacts overall. When viewed alongside Zillow data showing a slight quarter-over-quarter decline in average national home value of 0.4%, the increase in Equity Alerts reflects how home value trends differ by market.
"The Q1 2023 MMO Report pulled the curtain on an outstanding variety of mortgage opportunities available to lenders ready to duck and weave with a fast-moving market," said TrustEngine Chief Marketing and Visionary Officer Alex Kutsishin. "Sales Boomerang continuously monitors customer and market data, alerting lenders when there is a chance to knock down financing obstacles for borrowers. Mortgage Coach helps lenders follow through with Total Cost Analysis presentations that map out the best path forward."
**Key findings and analysis provided for informational purposes only. The data represented in the Mortgage Market Opportunities report is historical. Past performance is not a reliable indicator of future results. Sales Boomerang accepts no responsibility or liability for readers' use of the key findings or analysis included in this report.
About TrustEngine:
More than 200 independent mortgage companies, credit unions, banks and brokers depend on TrustEngine's innovative solutions to unlock additional loan opportunities, increase conversion and strengthen customer loyalty through individualized, data-driven engagement and education. With Sales Boomerang's intelligent alerts, lenders always know when a past customer or prospect is ready and credit-qualified for a loan. Award-winning loan presentations from Mortgage Coach equip lenders to deliver a consultative home financing experience that encourages faster, more informed loan decisions.
New in 2023, the TrustEngine Borrower Intelligence Platform (BIP) combines the best of both flagship products with world-class data analysis and segmentation, sophisticated probability and profitability modeling, intelligent loan pacing and routing, compelling borrower interactions, and ongoing performance evaluation and optimization. The result is a category-leading solution that enhances lenders' existing technology investments and puts data in the driver's seat of every customer engagement. For a closer look at how TrustEngine turns loan officers into trusted mortgage advisors, visit https://www.trustengine.com/.
News Source: TrustEngine
Related link: https://www.trustengine.com/
This press release was issued on behalf of the news source, who is solely responsible for its accuracy, by Send2Press Newswire. To view the original story, visit: https://www.send2press.com/wire/sales-boomerang-releases-q1-2023-mortgage-market-opportunities-report/