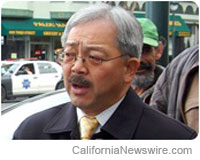 SAN FRANCISCO, Calif. /California Newswire/ — Today, S.F. Mayor Edwin M. Lee announced his appointment of Katy Tang to the District 4 Supervisor's seat that will be vacated on February 27th by Supervisor Carmen Chu when she is sworn in as San Francisco's newest Assessor-Recorder. "I am very proud to appoint Katy Tang as the new Supervisor for District Four to continue the good work and leadership that Carmen Chu has provided for so many years," said Mayor Lee.
"As a lifelong resident of the district who has worked alongside Carmen Chu on all the key projects and concerns facing the district, I know Katy will be a strong advocate for the District's families and small businesses and be a great Supervisor for San Francisco."
Supervisorial District 4 comprises the neighborhoods of the Sunset and Parkside.
For more than five years, Tang has served as Supervisor Carmen Chu's Legislative Aide drafting legislation to create Neighborhood Commercial Districts for District 4 business corridors, increasing protections for victims of domestic violence, streamlining complex City contracting processes, facilitating prompt payment to City contractors, and instituting increased penalties for crimes committed in and around public transit.
As Legislative Aide for District 4, Tang advised the Supervisor on policy issues before the Board of Supervisors, analyzed legislation, served as lead staff in developing the City's first two-year budget that balanced a $6.8 billion annual City budget and closed budget shortfalls of $380 million, and worked with District 4 neighbors and businesses to implement community improvement projects, including the completion of a pilot Storefront Improvement Project on Noriega and Taraval streets that improved 15 neighborhood businesses and created a model for small businesses Citywide. Tang also spearheaded efforts to assist small businesses comply with the Americans with Disabilities Act requirements, helping to create access for all San Franciscans and protect businesses.
Prior to joining Supervisor Chu's Office, Tang served in Mayor Gavin Newsom's Administration in the Office of Public Policy and Finance where she led neighborhood involvement efforts in the development of the City's first Community Justice Center.
Tang holds a Bachelor of Arts from the University of California at Davis. Tang is a graduate of Lowell High School and speaks Mandarin.