SAN FRANCISCO, Calif. /California Newswire/ — S.F. Mayor Edwin M. Lee today announced that the America's Cup Act to facilitate hosting the 34th America's Cup by authorizing certain eligible vessels to participate in the events has passed the U.S. House of Representatives after passing the U.S. Senate earlier this month. The America's Cup Act is currently on the way to President Barack Obama's desk for signature.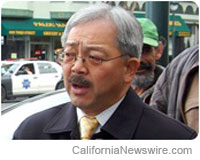 "This is a major milestone in our efforts to host the 34th America's Cup and bring the excitement of this world wide competitive event here to San Francisco," said Mayor Lee. "I am thankful for the bipartisan support of this bill in Congress and for the strong stewardship of House Democratic Leader Pelosi and Senators Feinstein and Boxer in securing passage of the America's Cup Act that will create jobs and boost our local economy at this critical time."
"By passing the America's Cup Act today, we are one step closer to ensuring the success of the 34th America's Cup, which will showcase the natural beauty of the San Francisco Bay, spotlight the innovation and entrepreneurial spirit of San Francisco and bring thousands of jobs and more than $1 billion in economic activity to the Bay Area," said House Democratic Leader Nancy Pelosi. "I have been proud to work hand-in-hand with our local maritime unions and in show of bipartisan strength with Senator Feinstein and Congressman Bilbray to ensure the success of today's bill."
"Having worked closely with maritime unions and with legislators from both sides of the aisle, I am delighted that the America's Cup Act has now passed both Houses of Congress and awaits President Obama's signature," said Senator Dianne Feinstein. "This straightforward, common sense legislation facilitates international participation in a globally recognized sporting event. Nationwide, the America's Cup events are expected to increase domestic economic activity by nearly $2 billion and create about 12,000 jobs."
"We are grateful to Leader Pelosi, Senators Feinstein and Boxer, and Mayor Lee for their leadership in developing this legislation," said Sailors' Union of the Pacific Present/Secretary-Treasurer Gunnar Lundeberg. "Working together, we have ensured that the America's Cup will move forward in a way that showcases San Francisco's rich maritime history, creates good union jobs, and protects our essential maritime cabotage laws."
The economic impact of San Francisco hosting the 34th America's Cup is significant, and includes an estimated 8,800 jobs, distributed widely across occupations from food and beverage to hospitality, transportation, and the construction trades, and nearly $1.4 billion in economic impacts to San Francisco and the Bay Area region.
"This is an incredible feat and demonstration of the breadth of support we have in Washington," said San Francisco America's Cup Organizing Committee Chairman Mark Buell. "We are grateful for the bipartisan leadership and commitment in Congress for the 34th America's Cup."