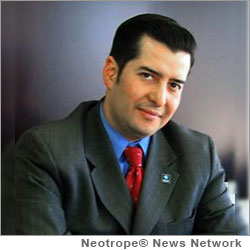 LOS ANGELES, Calif. /California Newswire/ — Latino Consultants, LLC today announced that Josh Valdez, DBA, the former Regional Director for the Federal Department of Health and Human Services (DHHS), has been named the Chair of Health Care Insurance Industry Group by the Romney for President campaign.
Dr. Valdez, who is the President and CEO of Right Way HealthCare Consulting, was also the highest ranking Latino as the Senior Vice President of Health Care Management for WellPoint from 2003-2007 and was appointed by President George W. Bush to be the Regional Director for DHHS, 2001-2003. He also co-authored "Strategies for Improving Latino Health Care in America" which included budget-neutral recommendations for expanding access.
His appointment as Chair of Health Care Insurance Industry Group by the Romney for President campaign is a major indicator that the Romney/Paul Campaign values the Hispanic Community as a critical voting bloc.
"There is nothing more important than ensuring health access in a way that is fair to all Americans and business, and I am going to pour all my 24 years of health care experience into this role for Governor Romney and Representative Ryan," said Dr. Valdez. "Health care is more than politics. It's an important part of education, jobs, and, of course, family. That's why I am honored to continue to serve the American People."
Dr. Valdez also serves as a commissioner at the National Institutes of Health (NIH) for eliminating racial disparities in health care and is a board member for the Hispanic Alliance for Prosperity. He has held past appointments as a member of the White House Council on Aging, Chairman of the U.S. Latino Health Task Force, and gubernatorial appointee of the California Health Policy and Data Commission.
Dr. Valdez has been recognized as one of the 15 most influential Hispanics in the United States by The Latino Coalition and one of the 10 most influential Latinos in the healthcare sector by Hispanic Business. He is married to Elizabeth and has three children, Gabriel, Noah and Jacob.
Latino Consultants, LLC specializes in social-cause marketing, communications and Public Relations. Founded in 1995 in order to increase access to health information and outreach to the Latino community, Latino Consultants is a full-service consulting firm to include all markets and services.
Copyright © 2012 CaliforniaNewswire® and Neotrope®. California Newswire is a publication of the Neotrope News Network and a U.S. reg. TM of Neotrope.