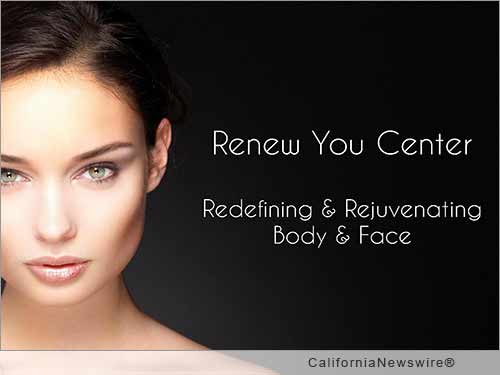 SAN DIEGO, Calif. /California Newswire/ — Everyone is running back to school specials, but one local women's anti-aging spa, Renew You Center, is excited to announce its September special, "Back to You." It runs from September 1-30, 2015.
So many great treatments rolled into one, this "Back to You" special promises to deliver women a stress relieving, cellulite reducing, body tightening and toning program.
This amazing special includes 17 treatments that promise to leave clients in a complete state of bliss.
The treatments are:
* Eight 40-minute vacuum assisted massages called Synergie. These non-invasive deep massage treatments are FDA-approved for improved blood circulation and reduction of cellulite and circumferential body areas.
* Eight 15-minute AromaTouch foot treatments. Essential oils are massaged along energy meridians and visceral contact points of the feet to help balance the body.
* One 40-minute AromaTouch body treatment. This is designed to reduce physical and emotional stressors and to support a healthy body with an out-of-this-world essential oil technique. Essential oils are massaged along energy meridians and visceral points on the back, head and feet.
Specifically, Synergie is a body sculpting tool that provides a proven non-invasive option for people who want to lose the appearance of cellulite, lose inches and smoothen skin without the risks, pain, or high cost of radical surgical methods.
One client recently reported, "It's an absolutely wonderful experience for the body and mind. The Synergie treatments really work. This is the real deal."
"These combined treatments total a $900 value," Michelle Cullum, owner, says. "But this month, the 'Back to You' special is available for $499. Now that's something to get excited about it," she says.
This special can be purchased at the Renew You Center or online at: http://www.renewyoucenter.com/store/.
About Renew You Center:
Renew You Center is an anti-aging spa located in the heart of Mission Valley in San Diego, Calif. The center was established in 2012 by licensed esthetician, Michelle Cullum. This warm and inviting haven has quickly become a San Diego favorite. Catering to an all-female clientele, this center specializes in helping women to redefine their body and rejuvenate their face by using the most current, cutting-edge treatments available.
TWITTER: @renewyoucenter
Contact: Michelle Cullum, Renew You Center, 619-725-3944
For questions or comments regarding the above news announcement, contact the company/organization(s) mentioned in the text, and not this website.
Copyright © 2015 CaliforniaNewswire® and Neotrope®. California Newswire is a publication of the Neotrope News Network and a U.S. reg. TM of Neotrope.