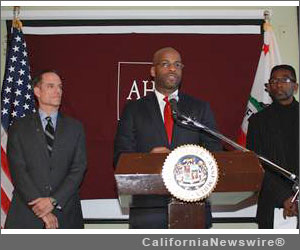 SACRAMENTO, Calif. /California Newswire/ — Today, Calif. Senator Isadore Hall, III (D – South Bay) announced a legislative package for 2016 designed to reduce gun violence in California and demand federal action to address the gun violence epidemic plaguing our nation.
From 2002 to 2013, 38,576 Californians were killed by gun violence. In 2013 alone, guns were used to kill 2,900 Californians, including 251 children and teens. That year, at least 6,035 others were hospitalized or treated in emergency rooms for non-fatal gunshot wounds, including 1,275 children and teens.
SB 880, joint authored by Senators Isadore Hall and Steve Glazer (D – Contra Costa) closes the "bullet button loophole" by redefining assault weapons to include military-style semi-automatic firearms with the capacity to accept a detachable magazine, requiring such weapons to be registered with the Department of Justice and prohibiting the future sale, purchase or possession of such weapons in California.
For years, gun owners have been able to circumvent California's assault weapon laws by using a small tool to quickly eject and reload ammunition magazines. These types of modifications have no legitimate use for sport hunters or competitive shooters. They are designed only to facilitate the maximum destruction of human life. Such weapons have been used in a number of recent gun attacks including the recent terrorist attack in San Bernardino that left fourteen Californians dead and 21 injured.
"SB 880 isn't about hunting or home protection," said the measure's joint-author, Senator Glazer. "I believe everyone has a right to hunt and to protect their families from harm in their home. This measure is about closing a dangerous legal loophole that for too long has allowed the use of assault weapons whose sole purpose is to kill a lot of people quickly. We need to make it more difficult for a person to enter a schoolyard, movie theatre or workplace with a rapid fire weapon. This measure is another important step in making communities throughout California safer."
Senator Hall has also introduced SB 872, which would allow local law enforcement agencies to enter into contracts with private schools, colleges or universities to provide on-campus security services.
In 2015 alone, there were 23 shootings on college campuses across the country, causing the deaths of 17 people and injuring 27. In response, some have irresponsibly suggested arming faculty or administrative staff. Such a reckless decision would only make school campuses less safe. Many local law enforcement agencies currently contract with local governments, school districts and public universities to provide primary or secondary security services, ensuring that trained law enforcement officers, not untrained civilians are able to promptly address an active shooter incident or other security need. SB 872 would extend this contracting authority to private schools, colleges or universities.
"Increasing the number of guns on a school or college campus will not make our schools safer," said Senator Hall. "SB 872 is a smart approach to help keep students, faculty and staff at private schools and universities safe and an important step to prevent and limit future criminal or terrorist acts on a school campus."
Completing Senator Hall's legislative package to reduce gun violence, Hall has introduced SJR 20 (Hall), which urges the United States Congress to end the current federal prohibition on publicly funded scientific research on the causes of gun violence and its effects on public health. The resolution also calls upon Congress to appropriate funds to the Centers for Disease Control and Prevention (CDC) and other relevant federal agencies to address the public health crisis caused by gun violence.
Since 1996, the US Congress has prohibited the CDC and other federal agencies from conducting scientific research on the causes of gun violence or its effects on public health. This lack of research has made it more difficult to objectively assess the public health impacts of gun violence and find ways to reduce the number of innocent lives lost every year. SJR 20 further demonstrates California's leadership to reduce gun violence across the country by allowing relevant federal agencies to research gun violence and seek national solutions to the United States' gun violence epidemic.
"It is time for Congress to lift the prohibition on publicly funded research and treat gun violence as the public health crisis that it is," concluded Senator Hall. "Too many of our sons and daughters, too many of our brothers and sisters, too many of our mothers and fathers have fallen victim to gun violence in California and throughout the United States. These proposals offer common sense steps to protect constitutional freedoms, ensure the responsible use of guns, and demand federal leadership to address this crisis in our nation. There is no time to delay action on reducing gun violence. The time to act is now."
Isadore Hall, III, represents California's 35th Senate District that includes the communities of Carson, Compton, Gardena, Harbor Gateway, Hawthorne, Inglewood, Lawndale, Lennox, Lynwood, North Long Beach, Rancho Dominguez, Rancho Palos Verdes, San Pedro, South Los Angeles, Torrance, Watts/Willowbrook and Wilmington.