LOS ANGELES, Calif. — The Gregory Popovich Comedy Pet Theater is taking its show on the road. After touring for seven years and then celebrating its first full year of daily shows at the Planet Hollywood Resort and Casino in Las Vegas, the show is scheduled to appear in several cities throughout California during the month of December.
Voted "The Best Family Show in Las Vegas," Comedy Pet Theater is one of its kind in America.
"We've had many requests from California residents to bring the show to them," Valerie Reeder, Director of Marketing and Public Relations, said, "so, that's what we did."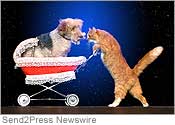 The Comedy Pet Theater is scheduled to appear in eight cities: Thousand Oaks, Los Angeles, Fresno, Palo Alto, San Francisco, Santa Barbara, Bakersfield and San Diego. For a full schedule of times and dates, visit: www.comedypet.com.
Comedy Pet Theater is a family-oriented blend of European physical comedy, juggling and balancing skills by international award winner Gregory Popovich and his extraordinarily talented house pets.
All pets that appear in the show have been rescued from shelters across the country. Pets include cats, dogs, and birds; there are over 30 pets in the show.
Animals are placed into human roles where they have been provided with a second chance at life. In fact, the show has been nicknamed "Second Chance." Pets act out various roles as high school students, class clowns, rowdy train passengers and more.
The show is designed to educate people about pet responsibility, including pet adoption, spaying and neutering, while demonstrating how unique animals are.
Popovich, a Russian native and former Moscow Circus star, has won numerous awards for his juggling, balancing abilities and physical comedy acts. He and his pets have appeared on national television including Jay Leno, David Letterman, Animal Planet and CNN. The Comedy Pet Theater show was also a finalist on NBC's "America's Got Talent" and has been named one of the top 10 acts in North America.
Popovich has entertained audiences in over 25 countries and numerous cities throughout the U.S. He is excited to tour California and to share his philosophy that "animals are people too."
For more information, visit: http://www.comedypet.com.
[tags]Gregory Popovich Comedy Pet Theater, Moscow Circus star, Pet Comedy Theater, California events[/tags]