PEBBLE BEACH, Calif. /California Newswire/ — OPINION: Well, for the many long-time Lexus fans and owners (I am one) who stared aghast at the recent show car preview of the "future of Lexus design" and lost our cookies, I'm very happy to say the actual car revealed today at the Pebble Beach Concours d'Elegance looks pretty darn snazzy. While the new design has the outline of the grille shown to stunned media at recent car shows and teasers, there is in fact a normal cross bar in the middle providing horizontal visual identity for the semblance of a bumper.
While the overall design still has "looks like a …" aspects to it, meaning you can sense visual cues from German cars, prior Lexus models, and the LFA Supercar, it does give a good answer to making the style of Lexus less bland and frankly boring, while keeping the crisp "business suit in metal" styling so well perfected by BMW, Audi and Mercedes. I think the design speaks more to a response to Audi's growing popularity in the U.S. than any other brand. BMW has shifted back to being more refined, and less edgy, while Mercedes continues to go off on some odd choices for the look of their new premium models.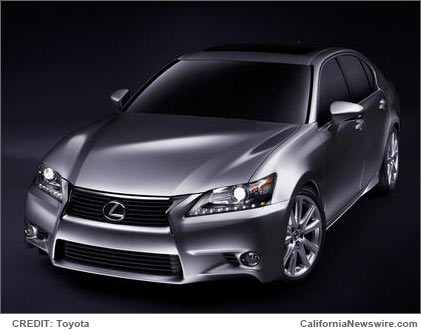 From the official news release: In addition to the GS 350, other 2013 GS models that will be launched in early 2012 include hybrid and F Sport versions, with further details to be announced later this year.
"Today, buyers in the mid-size luxury segment want a more engaging driving experience, styling that makes a statement, and a roomier interior package," said Mark Templin, Lexus group vice president and general manager. "With the all-new GS, we're giving them what they asked for, and more."
Along with a new Lexus signature spindle grille, the GS is a car that conveys a tangible sense of driver confidence, with a redesigned chassis and a wide, strong stance that inspires and rewards driver participation with crisp and precise handling.
GS engineers challenged themselves to develop a more spacious interior environment. While leaving exterior dimensions virtually unchanged, they dramatically increased cabin and trunk space to create an interior that can easily transport passengers and their luggage in luxury and style regardless of distance.
From certain angles it looks very classy, although from some angles it looks a little too much like their "sporty hybrid" model. Overall, it will give car buyers an additional choice if wanting a reliable, "sporty" luxury car. In depth details can be found on the Lexus website, and all the car pubs will be agog very soon about it, but I thought I'd share my initial impression of not throwing up upon the unveil, and being very happy to see something that didn't look like a Transformer movie reject.
UPDATE: well, it looks like Toyota has again abandoned us middle-class sports car enthusiast men by stating they "likely will not" offer a V-8 option for the GS, which many of us grown-ups have been waiting 10 years for. The IS has become a "chick car," and the IS-F is too "boy racer" for most mature men. I prefer the prior generation of the IS which had more Supra roots than the current model. With Audi, BMW and others offering V-8 power, particularly in $50K plus cars, the new GS might be considered a poser and not a player, which is incredibly stupid for the company since they sell a third as many GS models as BMW does with the 5 Series. I can get a 550i, and I can get a Mercedes E 550, but I won't be able to get a GS F V8? Sigh.
Lexus seems doomed to favor old people (apologies to those of you hitting 60 this year to use that term) and well-heeled women versus the affluent male car buyer. Car looks nice, but without a V8 option, it's not going to be a player for a certain type of buyer looking to get a new vehicle in 2012. And will we ever see a big Lexus coupe (old "SC") again? It still seems bizarre to me after all these years there is no GS-C (GS Coupe) in the line-up.
Article Copr. © Christopher Laird Simmons. ChristopherSimmons.com. No fee or consideration was paid in preparing this article.