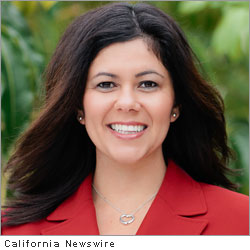 SANTA ANA, Calif. /California Newswire/ — Michele Martinez's Campaign for California State Assembly announced the endorsement of the Orange County Coalition of Police and Sheriffs (OC COPS) today.
"On behalf of the Orange County Coalition of Police & Sheriffs, we're pleased to announce our wholehearted endorsement of Michel Martinez for Assembly," said OC COPS Chair Kerry Condon. "Councilwoman Martinez has a deep understanding of the needs of local law enforcement and we're confident that she'll be committed to protecting essential public safety funding in the Assembly."
OC COPS is comprised of thirteen law enforcement organizations serving Orange County families. They have successfully helped support and elect/re-elect candidates for public office who are sensitive to law enforcement's philosophy, needs and who have demonstrated an understanding of the many difficulties and dangers inherent in the lifetime career and profession of public safety. OC Cops stands proudly as the collective voice of virtually all of the law enforcement agencies in Orange County and endeavors to promote, protect and defend the interests of law enforcement and the public through the political process.
As a member of the Santa Ana City Council, Martinez currently represents around 60% of the newly configured 69th State Assembly District. She was first elected to the Santa Ana City Council in 2006 and re-elected in 2010. A strong advocate for public safety, economic development and education on the council, she chairs the Parks, Recreation, Education and Youth Committee and is a member of the Neighborhood Improvement/Code Enforcement Committee. Michele holds a B.A in Criminal Justice from California State University Fullerton and she is a product of Santa Ana High School and Santa Ana College. She works as the Director of Orange County Nutrition and Physical Activity Collaborative Obesity Prevention Plan.
Martinez is running for California's 69th State Assembly District, which includes the city of Santa Ana and portions of Anaheim, Orange and Garden Grove. By population, the 69th Assembly District is the most Latino seat in California. Latino surname residents make up around 76% of population and compose over 50% of the electorate. Female Democratic voters hold a 6% registration lead over their male counterparts.