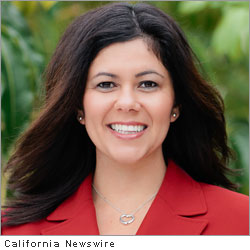 SANTA ANA, Calif. /California Newswire/ — Michele Martinez's Campaign for California State Assembly announced the endorsements of the California Branch of the National Women's Political Caucus (NWPC), PODER PAC, Women in Leadership (WIL) and the Women's Political Committee. The four organizations join HOPE PAC and the Women's Campaign Fund, both of which had previously announced their support for Martinez.
"We need more women serving in elected government fighting to ensure that California and our nation advances forward and protects the progress that women have made," said California Vice President of Political Action for the National Women's Political Caucus, Tammi McIntyre. "Councilwoman Martinez is a fighter and we know she will work hard to protect frontline services, increase school funding and keep our neighborhoods safe. She will also be a strong leader for women throughout Orange County and our State and we look forward to playing an active role in her campaign."
The National Women's Political Caucus is a multi-partisan grassroots organization dedicated to increasing women's participation in the political process and achieving equality for all women. PODER PAC provides Latina candidates with resources to help them launch and run winning campaigns. Women In Leadership is an Orange County based bi-partisan organization dedicated to electing women to public office to uphold our reproductive freedoms. The Women's Political Committee is a membership funded PAC based out of Southern California that supports women candidates throughout the country.
As a member of the Santa Ana City Council, Martinez currently represents around 60% of the newly configured 69th State Assembly District. She was first elected to the Santa Ana City Council in 2006 and re-elected in 2010. A strong advocate for public safety, economic development and education on the council, she chairs the Parks, Recreation, Education and Youth Committee and is a member of the Neighborhood Improvement/Code Enforcement Committee. Michele holds a B.A in Criminal Justice from California State University Fullerton and she is a product of Santa Ana High School and Santa Ana College. She works as the Director of Orange County Nutrition and Physical Activity Collaborative Obesity Prevention Plan.
Martinez is running for California's 69th State Assembly District, which includes the city of Santa Ana and portions of Anaheim, Orange and Garden Grove.