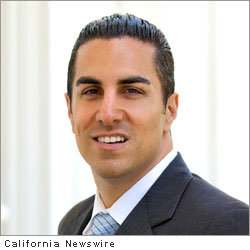 SACRAMENTO, Calif. /California Newswire/ — Today, Calif. Assemblyman Mike Gatto (D-Los Angeles) announced that his initiative reform measure to protect the "fundamental rights of Californians and prevent the pet projects of special interests from being enshrined in the California Constitution" passed its first major legislative hurdle, clearing the Assembly Elections Committee by a vote of 5-2.
This is one of the few major reforms requiring a supermajority that does not involve a tax increase. Instead, it proposes requiring greater consensus (55%) of California voters to approve new initiative Constitutional Amendments.
"The Constitution is supposed to be a sacred document that protects fundamental rights and principles of the people, not moneyed special interests and temporary whims. If an idea is so good and so important as to justify inclusion in the Constitution, it only seems logical that at least 55% of Californians should agree to it," said Gatto.
In the last fifty years, small groups of highly organized individuals have used the initiative amendment process to eliminate the rights of Californians. In 1964 a small majority of voters amended the constitution to protect racist landlords and real-estate agents who refused to rent or sell to non-white people, and in 2008, money poured into California from outside donors in order to eliminate marriage equality for same-sex couples. The result is a document that is very long and not always functional. For example, the federal constitution contains such lofty principles as Free Speech. California's contains specifications on which trammell nets may be used while rockfishing.
"We can't complain that California is dysfunctional without taking an honest look at the way we govern and the foundational document that provides the rules for how we govern," said Gatto while testifying before the Committee.
The process for amending the U.S. Constitution is extremely difficult, as a result, the U.S. Constitution has been amended a total of 27 times, and only 15 times since California statehood (in 1850.) In contrast, California's Constitution has been amended 521 times. The majority of those amendments have come as the result of large special interests who pour outside money into initiative campaigns with the knowledge that only a simple majority is required to pick on a group or to enshrine funding for their pet project in perpetuity.
"Take Proposition 8. It was hugely divisive and passed by the narrowest of margins, yet it took away rights for so many people," Gatto commented. "That same year Prop. 2 gave certain rights to chickens. It is no surprise that so many people feel ill-served by the current system."
"We can't have it both ways," said Gatto. "We can't require a 2/3 vote on something as significant as a tax increase but not require a similar consensus on issues and principles as fundamental and important as marriage or other fundamental principles."
Gatto plans to work closely with figures like California State Senate President Pro-Tem Darrell Steinberg who has also spoken about the need for reform.
"Voters are tired of seeing the Constitution used as a pawn in a game of special-interest politics," said Gatto. "I hope to have the support of my colleagues on both sides of the aisle, who believe in the wisdom of our Founding Fathers, to support taking steps to make California's Constitution a more sacred document. No right is permanent, and no reform has any teeth, if it can be so-easily affected at the very next election."
VIDEO

Mike Gatto is the Chairman of the Appropriations Committee of the California State Assembly. He represents the cities of Burbank, Glendale, La Cañada Flintridge, the Los Angeles neighborhoods of Los Feliz, Silver Lake, Atwater Village, and portions of the Hollywood Hills and East Hollywood.