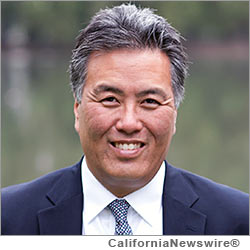 RIVERSIDE, Calif. /California Newswire/ — United States Senator Dianne Feinstein today announced her support of Mark Takano, a public school teacher and candidate for the United States House from the new 41st District. "Mark Takano will work in Congress to help bring jobs to Riverside County, improve public schools and expand job training programs to secure a prosperous future for local families," said Feinstein.
"I am proud to support Mark Takano for Congress, and look forward to working alongside him. As a high school teacher, Mark Takano has 20 years of experience working with young people who are about to enter the workforce. He knows that education funding is an investment in the future of our economy. In Congress, Mark Takano will fight for better schools and better jobs for our children," said Senator Feinstein.
Senator Feinstein has served California in the United States Senate since 1993, where she serves as Chairwoman of the important Select Committee on Intelligence. Prior to her election to the Senate, Feinstein served for nine years as Mayor of San Francisco.
"There are few elected leaders in California with as distinguished a record of public service as Senator Feinstein. I am honored to have her support in this campaign. Senator Feinstein works every day to bring good jobs to California and to protect our state's natural treasures, and I look forward to joining her in that work," said Takano.
A lifelong resident of Riverside, Mark Takano was elected to the Riverside Community College District Board of Trustees in 1990 and won re-election to the board in 1995, 1999, 2004 and 2008. He is the longest serving current board member and one of the longest serving Democratic elected officials in Riverside County. Takano has worked as a classroom teacher in the Rialto Unified School District for the past 23 years.
Information based on submitted press release and is believed accurate but not guaranteed.