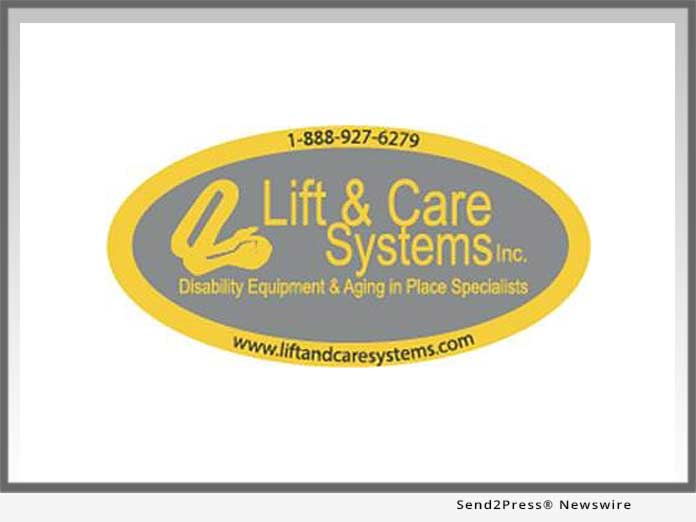 LAKEVILLE, Mass., Apr 15, 2019 (SEND2PRESS NEWSWIRE) — Lift & Care Systems is proud to carry Access Unlimited's Multi-Lift and Glide n Go wheelchair to car transfer devices. The Access Unlimited Multi-Lift is designed to be used primarily with cars, but it can also be used for vans, trucks or SUVs.
The Multi-Lift allows you to lift a power wheelchair or scooter in and out of your vehicle, in addition to helping the individual enter and exit standard, unmodified vehicles. Another great benefit of using the Multi-Lift is that it can used in the home for bedrooms, bathrooms or wherever else it might be needed.
The Multi-Lift is the perfect general-purpose body lift system that can be used almost anywhere, whether it is needed to enter a hotel room or vacation home, used to get in or out of bathtub or pool or safely enter and exit a vehicle.
The Glide 'n Go lift is a portable, easy-to-use lift for transferring a patient from a wheelchair to a van, truck or SUV. It features a power lift and transfer seat that enables individuals with reduced mobility to enter and exit standard, unmodified vehicles. It works using the vehicle's own battery power to raise the individual up to the vehicle's seat height, or lowering the individual to the seat height of the wheelchair.
If for some reason the vehicle battery dies, don't worry, because the lift has an emergency back-up system that will allow the individual to exit the vehicle. The Glide 'n Go works on both the driver and passenger side of vehicles in either the first or second row of seats.
Both the Multi-Lift and the Glide 'n Go wheelchair transfer devices do not require drilling to install them in the vehicle. All that is needed is the make and model of the vehicle where the Multi-Lift or Glide 'n Go will be installed. The vehicle specific brackets will be provided to bolt the lift onto it. This maintains the resale value of your car.
"The Access Unlimited line of wheelchair to car transfer devices fills an important gap in our line of products for disabled individuals," said Dave Austin, President of Lift & Care Systems. "Not everyone can afford-or even need-a custom built lift system for their modified car or van. This makes the Multi-Lift and Glide 'n Go a great option for many families."
About Lift & Care Systems, Inc.:
Lift & Care Systems, Inc is dedicated to bringing the highest quality of life to users and their caregivers by providing customized solutions that enhance the users' mobility. To achieve this goal, Lift & Care Systems offers a myriad of products, including: Body Supports, Slings, Mobile Lifters, Ceiling Systems, Wall-to-Wall Lift Systems, Wheelchair-to-Water Pool Lifts, Frictionless Slides, stair lifts, aluminum ramps, accessible shower stalls, lifts for cars/vans/SUV's with the Multi-Lift and Glide 'N Go.
Their products are used in private residential homes; semi-professional homes, such as group homes and day programs; and professional institutions, including nursing homes, hospitals and schools. Lift & Care Systems is the exclusive distributor of the SureHands patient lifts featuring the patented Body Support systems in Massachusetts, Rhode Island, and Connecticut. In addition, Lift & Care Systems product line also includes National Ramp Systems and a broad array of stairlifts, for in home use.
Founded in 1993, Lift & Care Systems, Inc. is located at 7 Precinct Street in Lakeville, MA 02347. For additional information, or to arrange for a free personal consultation, please call 508-465-5254.
Information: http://www.liftandcaresystems.com/
News Source: Lift and Care Systems
Related link: http://www.liftandcaresystems.com/
This press release was issued on behalf of the news source, who is solely responsible for its accuracy, by Send2Press Newswire. To view the original story, visit: https://www.send2press.com/wire/lift-and-care-systems-now-offers-wheelchair-to-car-transfer-devices/